Government still failing to protect children from "extreme" porn, warns campaign group
Online Safety
26 October 2020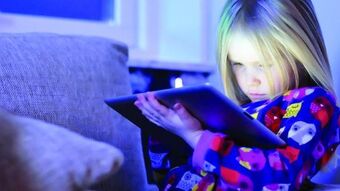 The Government is still failing to protect children from the dangers of viewing pornography, including extreme and graphic images, five years after Ministers pledged to make the UK a world leader in online verification, warns campaign group.
The warning from the social policy charity CARE, comes on the anniversary (17th October) of the Government announcing to Parliament that it would introduce an Online Harms Bill by early 2020. Despite this commitment no legislation has been published and children can still access extreme pornography, including images and films of degrading and dangerous acts and even films depicting sexual assault.
To mark the anniversary CARE have released the finding of a Savanta ComRes poll, which shows that Government is "out of step" with the public by delaying the introduction of age verification.
The poll of more than 2,100 showed two thirds of respondents – 63% - believe age verification controls should be introduced now. This rises to 74% when 'don't know's' are excluded.
This includes 59% of men and 67% of women who think age verification controls should be introduced immediately. Only 21% of respondents think the UK Government is right to wait until its new Online Harms Bill to introduce age verification on commercial pornographic sites.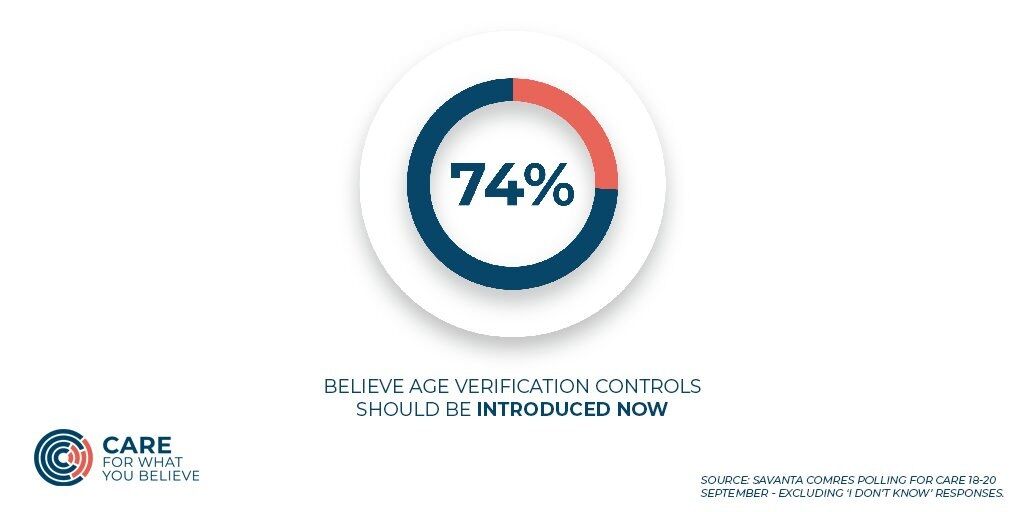 Responding to the poll, CARE's Chief Executive, Nola Leach, commented: "What this poll shows is that the Government is completely out of step with public who recognise the dangers of online pornography to children and young people and want the UK Government to act now.
And her comments were echoed by John Carr OBE, a leading authority on child safety online and former government advisor who says: "Children have been harmed only because the Government delayed. Everything was ready. They refused to act. Inexcusable. The longer this goes on the more children will be hurt.

"This process began in 2017 and the Government have said any new laws might not become operative until 2023. Six years is a long time in the life of a child."
The UK Government had been poised to become the world leader in online safety and the first country in the world to introduce age verification technology, having made a manifesto commitment in 2015 to introduce the safety measures. Despite Ministers including measures in the Digital Economy Act 2017, which were passed by both the House of Commons and House of Lords, the Government later removed the requirement for age verification, promising to return to the issue at a later point.
However, the following two years saw the age verification scheme repeatedly delayed until on 16 October 2019, the UK Government abandoned the scheme altogether.
The very next day, in response to an Urgent Question, the Minister told Parliament that the Government would be moving fast on a new Online Harms Bill, suggesting it could be published for pre-legislative scrutiny early 2020.
To date, not only has the new bill not been published, the Government has not even responded to the online harms consultation which concluded in the middle of 2019.
This means it could realistically be years before any form of age verification is in place and all the while, young people continue to be exposed to explicit commercial pornography online.
Mrs Leach concluded: "The tragic reality is that we were poised to take a huge leap forward and be a world leader by becoming the first country in the world to introduce robust age verification controls to online porn.
"But the inexplicable U-turn by the Government has not only allowed other countries to steal a march on us, it's also left our young people horribly exposed, to extreme imagery and films.
"By failing to implement age verification controls, despite the scheme being approved by MPs and Peers and an independent regulator in the British Board of Film Classification being in place, the UK Government is failing entire generations.
"It's all very well saying a new Online Harms Bill will deal with these concerns but given how long it's taking for the Government to even respond to the consultation on the proposed bill, that could take years.
"In the meantime, children as young as seven are accessing online pornography and being shaped and influenced by it.
"Our polling shows that what the majority of people want is for the Government to re-appoint the BBFC as the independent regulator and set a date for implementation as soon as possible, rather than allowing any further delays."
ENDS
ENDS
Notes to editors:
For interview requests or more information please contact James Mildred: james.mildred@care.org.uk // 07717516814
CARE is a well-established mainstream Christian charity providing resources and helping to bring Christian insight and experience to matters of public policy and practical caring initiatives. CARE is represented in the UK Parliaments and Assemblies.
CARE has campaigned specifically for age-verification on online porn sites, working closely with Baroness Howe, for example: https://care.org.uk/cause/online-safety/cares-work-on-online-safety
In the poll, people were asked:
QCCAREQ1. The UK Parliament was the first in the world to pass legislation to require robust statutory age verification checks on pornographic websites. Under the Digital Economy Act (2017), any commercial pornographic website refusing to provide robust anonymised age verification would risk being blocked from accessing the UK market by the regulator. The Government, however, has said that it will not implement the law but instead wants to introduce a new law which will address other harmful content as well as pornography. The proposed new legislation has not yet been published, or considered by Parliament, so the timeline before for such legislation comes into effect is likely to be some years. Which of the following statements is closest to your view?
The Government should implement the legislation to protect children from pornographic websites now and introduce the additional legislation when it's ready – 63% said this was closest to their view.
The Government should wait to implement legislation to protect children from pornographic websites until legislation is ready to also address the other online harms as well – 21% said this was closest to their view
On October 17, the Government indicated a new Online Harms Bill would be ready for pre-legislative scrutiny by early 2020: https://hansard.parliament.uk/commons/2019-10-17/debates/C743945F-9F9F-48E5-9064-707189D07846/OnlinePornographyAgeVerification
The current timetable is very different. Far from having legislation ready for pre-legislative scrutiny by early 2020, the Government has not even provided its full response to the Online Harms White Paper (the consultation for which closed on 1 July 2019). This is now scheduled for autumn 2020 with an expected pre-legislative scrutiny commencing afterwards, if indeed there are no further delays.
Age Verification Timeline of Key Events
2015: Conservative Party Manifesto commits to introducing age verification to protect under 18s from exposure to online porn – 'we will stop children's exposure to harmful sexualised content online by requiring age verification for access to all sites containing pornographic material…'
5 July 2016: Digital Economy Bill introduced before Parliament.
December 2016: CARE works with Fiona Bruce MP and Claire Perry MP on two amendments to strengthen online protections for children – https://care.org.uk/news/2016/12/breakthrough-in-the-fight-to-keep-children-safe-online
April 2017: Digital Economy Act receives Royal Assent - https://www.gov.uk/government/news/digital-economy-bill-receives-royal-assent
August 2018: CARE highlights alarming loophole in the DEA allowing non-photographic child sex abuse images to be available online - https://care.org.uk/news/2018/08/care-polling-71-of-mps-back-closing-animated-child-porn-loophole
December 2018: MPs approve age verification regulations – https://care.org.uk/news/2018/12/mps-approve-age-verification-regulations
March 2019: Online age-verification scheme still not ready – https://care.org.uk/news/2019/03/online-porn-age-verification-scheme-still-not-ready
April 2019: Government says scheme will begin in July – https://care.org.uk/news/2019/04/porn-site-age-checks-will-start-in-july
July 2019: Age verification is delayed yet again – https://care.org.uk/news/2019/06/age-verification-scheme-on-porn-sites-faces-yet-another-delay
September 2019: study finds children as young as seven watching pornography –https://care.org.uk/news/2019/09/children-as-young-as-seven-are-watching-porn-study-finds
October 2019: Government ditches age verification scheme, suggesting a new Online Harms Bill will propose a different approach – https://care.org.uk/news/2019/10/government-abandons-age-verification-on-pornographic-sites
January 2020: Tech companies launch legal challenge to force Govt to bring in under 18s porn ban -https://www.telegraph.co.uk/news/2020/01/16/tech-companies-launch-legal-action-force-government-bring-18s/?WT.mc_id=tmg_share_tw
July 2020: High Court allows legal challenge to go ahead, saying the UK Govt has a case to answer
October 2020: CARE's polling shows huge public support for age verification controls as soon as possible
In this article for Politics Home, CARE's CEO Nola Leach explains how the UK Government can easily implement Part 3 of the DEA, which includes age verification for online porn: https://www.politicshome.com/members/article/the-government-must-implement-statutory-age-verification-under-the-digital-economy-act-now