Breakthrough in the fight to keep children safe online
Online Safety
1 December 2016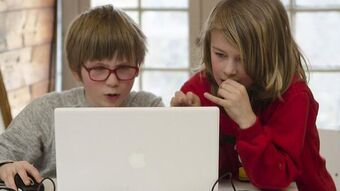 The Digital Economy Bill was ushered through to the House of Lords yesterday after the Bill received an unopposed third reading in Parliament, meaning that it's much closer to becoming law.
The Digital Economy Bill aims to put in place crucial protections that will stop children being able to access explicit 18-rated content online.
Monday evening saw two key child protection changes made to the Bill.
The first was for the new age verification regulator to be given the power to block a site from accessing the UK market if the site did not put in place robust age-verification checks. CARE campaigned for this, as otherwise the Bill contained no credible enforcement mechanism, making it ineffective in practise. Giving the UK regulator the power to cut off non-compliant pornographic sites from the UK market incentivises companies to put in place these checks.
CARE worked closely with Claire Perry MP on this issue who tabled an amendment to the Digital Economy Bill which gave the regulator blocking powers. It was signed by 35 MPs from six parties. The Government responded by conceding the need for the change and then introduced their own amendment with the same effect. It was passed on Monday evening.
The next key amendment closed the loophole in the Bill which only required British providers of R18 material to put in place age-verification for R18 rated pornography, which would have led to a double-standard between British and foreign-based sites. CARE worked closely with Fiona Bruce MP who tabled an amendment to address this concern. Again the Government responded by acknowledging that there was a need for the change and introducing its own amendment to that effect which was again passed on Monday night.
These amendments live up to the Conservative Party's manifesto commitment to "stop children's exposure to harmful sexualised content online, by requiring age-verification for accessing all sites containing pornographic material.
A major NSPCC report this year warned how 53 per cent of 11-16 year olds have seen graphic porn content online and that it was severely damaging how they viewed sex and relationships. This underlies the importance of having a bill that can prohibit children from accessing explicit content online.
Speaking after Monday's debate Claire Perry MP said,
'I am very grateful to CARE for all their assistance as I worked to make the case for my IP blocking amendment, and indeed in addressing other challenges associated with the Bill. Their briefings and technical advice were really invaluable . It would have been much harder trying to do secure the vital changes we achieved on Monday without their help!'
Speaking after Monday's debate Fiona Bruce MP said,
"CARE has been invaluable in this process – providing briefings and technical assistance."
"The CARE briefing was unique in drawing special attention to the failure of the age verification checks to apply to 18 rated video on demand pornography."
"Their research and commitment to making sure that children are protected through spotting and closing down loopholes has strengthened this bill immensely."
"It has been a pleasure working with CARE to enhance child protection in the UK."
CARE's Chief Executive Nola Leach
"This has been a huge success for CARE and the other children's charities.
It is fantastic news that the Bill has now been transformed from something that was very weak into something that can make a real difference in protecting children.
CARE has spent a lot of time providing research and support to strengthen the Digital Economy Bill so that it is effective in practise. It is therefore great to see two amendments we have supported and worked on with Claire Perry MP and Fiona Bruce MP make it into the Bill itself.
We protect children offline from graphic content and now we are almost at a stage where we can offer them those same protections online too.
The Bill will now go onto the House of Lords and we will work with Peers to ensure that the milestones we have achieved are strongly supported there too."
Ends
Notes to the editor:
For more information please contact Rachael Adams on 020 7227 4708 / 07851 153693 or Rachael.adams@care.org.uk
CARE has been involved with the Digital Economy Bill and has written extensively about its progress: https://care.org.uk/news/blogs/digital-economy-bill-second-reading-today and https://care.org.uk/news/latest-news/government-fails-ensure-enforceabil...
Nola Leach, CEO of CARE spoke out in favour of age-verification checks here: http://www.christiantoday.com/article/failure.to.accept.age.verification...
CARE has raised awareness on the damaging effects that pornography is having on children here: https://care.org.uk/news/latest-news/online-pornography-destroying-child...
The NSPCC survey: https://www.nspcc.org.uk/services-and-resources/research-and-resources/2...
CARE's work on the Digital Economy Bill with Fiona Bruce MP:
Fiona Bruce MP highlighted loopholes in the law during the Second Reading debate using evidence from a CARE briefing. Fiona Bruce tabled her own amendment during the Report Stage. The government acknowledged the need for this amendment and brought forward their own, which Fiona Bruce and CARE supported.
Comres study:
ComRes interviewed 2,058 British adults online between 10th and 12 July 2015. Data were weighted to be representative of all GB
Adults aged 18+. ComRes is a member of the British Polling Council and abides by its rules.
Fiona Bruce MP (Congleton) (Con) on the Comres study:
"Public opinion is very much with us on this issue. ComRes polling of 2,000 adults in Great Britain in July last year showed that 73% of people support age verification of any 18-rated DVDs shown online and that just 13% disagreed."
Claire Perry MP mentioned CARE when speaking about the need for an enforcement mechanism for age-verifications on websites featuring explicit 18-rated content
"There were, however, significant problems in assuming that ISPs would operate voluntarily. It was not just me and other colleagues in the House who were concerned. Bodies such as Christian Action Research and Education, the Children's Charities Coalition for Internet Safety, the NSPCC, the British Board of Film Classification, which is now the regulator, and the Digital Policy Alliance were concerned that this sensible provision for age verification would not stick unless there was a more robust enforcement regime."