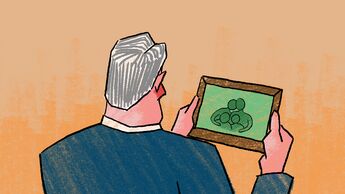 Writing for the Sunday Telegraph, Sir Keir Starmer, the leader of the Labour Party, said he wanted Labour to 'be the party of the family'. He was sharply critical of the current government who, he claimed, often treated families as an afterthought. By contrast, under his leadership, Starmer wants this to change.
Strong rhet­or­ic — what about substance?
It's good to see the leader of the opposition talking publicly about the importance of families. In this respect he's absolutely right. Families matter because of the role they fulfil within wider society. From the Christian perspective, family is not simply a convenient arrangement, but a God designed gift. There's an abundance of evidence which shows the damage of family breakdown and the importance of the child-parent relationship.
At CARE, we've been involved, along with many others, in influencing the public debate on family policy. We've proposed and opposed laws that either would have benefited families or undermined them. Of course, the real challenge now is for Sir Keir is to show exactly what a Labour government would do to make good on this fresh commitment.
To help him out, here's some ideas.
1

. Reform the income tax system

CARE recently submitted a response to the Treasury Select Committee's call for evidence on taxation post-covid. We argued that there needs to be a wider reform of the income tax system in the UK, which at the moment treats families unfairly. The basic issue is that the UK adopted a unique form of independent taxation in that we fail to take any account of family responsibilities through the tax system.

The result of this has been chronically high margin tax rates, which is fancy terminology for saying that for every extra £1 you might earn, you only keep approximately 23 pence. Moreover, in our tax system, the burden on a one-earner married couple with two children on the OECD average UK salary is way higher than other developed countries.

If Labour is serious about supporting families, then it should look closely at the income tax system and take steps to reform it so family responsibilities are properly recognised.

2

. Use the fam­ily test properly

Another specific policy which should be more effectively used is the family test. It was introduced by former prime minister David Cameron in August 2014 and the idea was sound: every domestic policy would be assessed as to its impact on families across the UK. In this way, it would act as an early warning signal to ensure families were prioritised through policies.

The problem is it's not being properly used. Government departments will either use it very selectively, or they'll simply ignore it altogether. Sir Keir could make it a legal requirement – something CARE called for back when the test was first introduced.
3

. Invest more in rela­tion­ship sup­port services

It might seem absurdly obvious, but helping couples stay together, especially married couples is a really good idea. From the Christian perspective, this is because marriage is a God-designed gift and should be invested in. No other form of commitment can match it for it's quality. It provides the ultimate security for a couple to grow in love and commitment and to provide stability for children as well.

Sadly, successive governments have underfunded support services which are designed to help couples stay together and resolve differences. In fact, the current government has done the opposite: it's made divorce even easier through its introduction of 'no-fault' divorce.

Sir Keir should choose to invest more finance in relationship support services and, if he's really serious, he should look again at the divorce law changes.
4

. Abol­ish the two-child bene­fit limit

This one is a no-brainer. The two-child benefit cap restricts the amount of social security benefits available to larger families. This particular cut has affected around 243,000 families since it was introduced.

For a variety of reasons, this limit needs to be scrapped. Not least because it's one factor behind the absurdly high abortion rates across the UK. Starmer may not find that reasons especially compelling. But there so many more reasons to reverse this cut and provide some welcome relief for families with three or more children.
Con­clu­sion