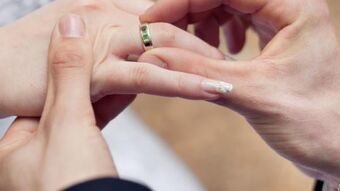 The Government should prioritise investing in relationship support services to help couples stay together, rather than making divorce easier, CARE has said.
Responding to a story in The Times newspaper which reported the Government was planning to rush through its Divorce, Dissolution and Separation Bill by the end of this week, CARE questioned the logic of making divorce easier when marriages are under such pressure.
In a letter published today (9 June) in The Times, CARE's Head of Communications, James Mildred, said the Divorce bill, which will make divorce quicker and easier, was the wrong approach.
Yesterday, (8 June) MPs voted for the divorce bill at second reading. Some MPs, including new members of Parliament spoke out against the legislation. The Bill now moves to Committee Stage.
Read James' let­ter to The Times
Dear Sir,
You report that the Government is considering rushing through the Divorce, Dissolution and Settlement Bill by the end of this week .To my mind it is simply beyond comprehension that when marriages are under greater pressure because of the lockdown, the Government should be attempting the biggest reform to divorce law in England and Wales for 50 years. Making divorce easier and quicker in many contexts will inevitably change the nature of the commitment that is made when marrying because those doing so will recognise that it is something that can be exited easily and quickly, without having to prove that the relationship has broken down. I know many will disagree, but this is surely the wrong approach. What's needed is more investment in relationship support services. Let's help people stay together, not make it easier for them to separate.
Yours Sincerely,
James Mildred
Head of Communications, CARE