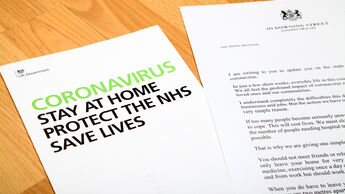 It has been two years this week since I became Chief Executive of CARE. I have spent a disproportionate amount of that time defending the general decency of the large majority of politicians and civil servants. However, this week that position seems harder to defend than ever before, as we have heard fascinating and terrifying testimonies at the Covid Inquiry.
In his speech at the establishment of CARE 40 years ago, John Stott set out a vision for good leadership, rooted in biblical values and Christ-like qualities. It is not an exhaustive list, but one worth holding up as a standard, against which we can measure what we have already learnt this week about those leading the country during the pandemic.
1

. Vis­ion

Leadership starts with vision.

It may not be immediately obvious that vision was important in how we dealt with the Covid Pandemic. For most people, I suspect the belief is that dealing with a pandemic is about coping and getting through it; surviving as best we can. But vision is, at its core, an imagined outcome.

A Prime Minister who allegedly saw the pandemic as "nature's way of dealing with old people" is someone who does have a vision; a vision that I do not want to be any part of.

Testimonies this week have suggested that the Secretary of State for Health may have had a similar attitude, being ready to decide on who would receive treatment and who would not if the NHS became overwhelmed.

The value God places on each individual life, from conception to natural end, is in stark contrast with survival of the fittest, utilitarianism, or the economic efficacy that the former Prime Minster's remarks seem to be founded on.

A vision based around survival by jettisoning those who are weaker or less privileged, stands in opposition to the one of flourishing we see in the Bible, where God the Father has a particular heart for the widow, the orphan, the poor and the sojourner, and Jesus challenges his followers to love our neighbours, feed the hungry, and visit the prisoner. This is why at CARE we focus so much of our work on protecting babies and children from harm and seeking a society that respects, cares for and values older people.

The Covid Inquiry has provided a stark demonstration of why we need the Bible and compassionate, faithful Christians at the heart of political decision making.

I am not so arrogant as to suggest Christians have exclusivity of compassion for the vulnerable or a desire to see everyone flourish, because I do believe in common grace and God's ability to use the most surprising people and means to achieve his goal.

But I do know that it is all too easy, as Paul describes in Romans 1, for destructive visions and a distorted sense of what is good, to reign when God removes his grace.
2

. Ser­vice

One of the most depressing elements of the various testimonies this week has been the sense that during the pandemic, our leaders felt that leadership was about being important and being at the top. They did not have a deeply ingrained sense of why they had been placed there. What has been described suggests they had abdicated all responsibility and leadership.

Indeed, even as each person has given their evidence it is noticeable that they have taken care to justify their own actions, distanced themselves from the worst behaviours and decisions around them, and sought to obfuscate or throw others 'under the bus'.

This is in complete contrast to what I would expect of a Christ-like leader.

Government Ministers have that title for a reason. They are there to minister and serve. We needed Christ-like leaders more than ever during the pandemic.

Jesus said: "You know that those who are regarded as rulers of Gentiles lord it over them, and their high officials exercise authority over them. Not so with you. Instead, whoever wants to become great among you must be your servant, and whoever wants to be first must be a slave of all. For even the Son of Man did not come to be served, but to serve, and to give his life as a ransom for the many." (Mark 19:42-5)

Many of us hoped that those in leadership – politicians, civil servants, special advisors and staffers – would find this calling at our time of greatest need. It is clear that far too few did.
3

. Dis­cip­line

John Stott writes in his chapter on 'a call for Christian leadership' in Issues Facing Christians Today that "the final mark of Chrisitan leaders is discipline, not only self-discipline in general (in the mastery of their passions, their time, and their energies), but in particular the discipline with which they wait on God. They know their weakness. They know the greatness of their task and the strength of the opposition."

While I do not hold leaders who are not Christians to all of what Stott said there, discipline is a close relative of self-control, and should be a quality we seek and cherish in all leaders (and not just politics). However, the content of the correspondence, the language they used, and the behaviours they participated in or failed to challenge, is shocking.

On the day Dominic Cummings gave testimony, a daily devotional I receive by email had these wise words: "Guard your thoughts because they become your words. Guard your words because they become your actions. Guard your actions because they become your character. And guard your character because it determines the level of God's blessing in your like."

Those words seem providentially set against the evidence we have heard this week.

As the media have focused on the dramatic soundbites and lurid anecdotes that attract and fascinate many of us, we must not forget the lessons emerging from this Inquiry and the evidence that has been given.

Words and actions matter because they are symptoms of character, and character matters because our leaders make decisions outside the boundaries of an election manifesto or a campaign slogan.

The Bible is full of remarkable men and women of faith and Christ-like character. They are not faultless, flawless and certainly not sinless. God, in his grace, uses fallible, fragile people to do remarkable things. What we are called to be is faithful.

This week I have been greatly saddened by what I have heard. But it should not have shocked me. Equally, it would be easy to lose heart and suggest all politicians are the same. They are not.

There are men and women in Parliament and the public square who dedicate themselves to following, communicating and seeking to realise a vision for flourishing. There are leaders in the public square who are disciplined and seek to serve others.

For forty years CARE has walked alongside these leaders and politicians, encouraging and challenging them, and supporting and empowering those who seek to follow the call to Christian Leadership. Next year there will be a General Election, where a number of good and faithful servants in the House of Commons will be retiring. Others may lose their seat. But there will be a new intake, new Members, and some of those will be followers of Jesus.

This should give us hope and determination that now is not a time to give up on a call to, and vision for, Christian leadership. Now is the time to trust in the inexhaustible riches of God's grace; to work for a renewed politics in order to transform every image-bearing life that is precious to Him and us.