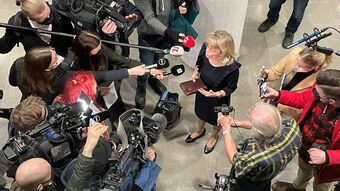 A Finnish MP who was charged under hate crime laws for quoting bible verses and expressing orthodox, Christian teaching on social media has been cleared of all charges.
Päivi Räsänen, the Former Minister of the Interior had shared her views on marriage and sexuality in a 2019 tweet, a 2019 radio debate and a 2004 pamphlet.
In a case that's garnered international attention, she and Bishop Juhana Pohjola, who published Räsänen's pamphlet to his congregation, were accused of hate speech.
In its unanimous ruling, the court concluded that "it is not for the district court to interpret biblical concepts."
The prosecution were ordered to pay more than 60,000 euros in legal costs and has seven days to appeal the ruling.
Speaking after the victory, Päivi Räsänen said:
She was supported by legal advocacy group ADF International. Executive Director Paul Coleman said this after the verdict:
Reflecting on the verdict, CARE's James Mildred said the case highlighted the danger posed by hate speech laws.