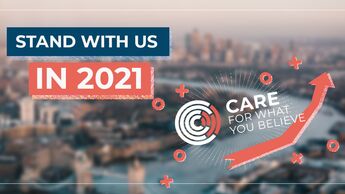 The work of CARE depends entirely upon the generosity of our incredible supporters. Our mission is to bring a significant Christian influence to laws and policies that impact all our lives. We do so because we think God's ways for human flourishing are the very best. Through briefings, meetings and networking we aim for positive change in a wide variety of areas.
As 2021 begins, there are some major challenges on the horizon, and some key opportunities as well. Without your ongoing support, how can we hope to meet them? CARE's work is powered by prayer and the financial partnership we enjoy with many of you. Each new challenge is an opportunity to be salt and light and to speak God's truth into the public square.

Cel­eb­rat­ing
50

years since the Nation­wide Fest­iv­al of Light

This year is significant not just because of the challenges we face, but also because of a special anniversary. 50 years ago, the Nationwide Festival of Light held a public demonstration in Trafalgar Square. Christians came together to raise their voices about some alarming changes in society. Out of that, CARE was born in 1983. Our tactics and approach might have shifted since back then, but our values remain the same.

Over 2021 we're planning some key events to mark this anniversary which speaks of God's abundant goodness and grace.

Here's what we'll be doing in
2021
Here's how you can stand with us
2020

in review

In the last CAREcast of 2020, James and Naomi reviewed the extraordinary developments of the last 12 months.