It's one thing to be opposed to the legalisation of assisted suicide. Such a change would put enormous pressure on the most vulnerable in our society. Any so called 'right to die' would quickly become a duty to die. If you look at places like Oregon state, where assisted suicide has been legal for decades, one of the reasons most frequently provided by people who choose an assisted suicide is fear of being a burden.
At CARE, we've always argued against changing the current law across the various parts of the UK, which outlaws any form of assisted suicide, in any circumstance. This blanket ban approach offers the safest and best way of protecting vulnerable people especially from abuse and coercion. The fundamental problem with assisted suicide legislation is that you couldn't ever create a law that was actually safe enough. No matter how many safeguard you put in, if you cross this line in the sand, you'd be opening a Pandora's box which would just grow and grow.

But at the same time, it's all well and good explaining why we're opposed to assisted suicide. But are we for? What's our positive vision for society? What's the alternative? The challenge of suffering, especially at the end of life, is all too real for people. All of us will have to contend with death and pain of different sorts at the end. All of us want a good death. We want to feel a measure of control over circumstances and perhaps, even timing as well.
Given that at CARE we passionately believe in human dignity, it's absolutely consistent to advocate for a society where a good death is possible. The same impulse that drives us to resist assisted suicide is the one that compels us to promote care at the end of life.
One of the main ways we do this is by championing something called palliative care. As Parliament considers assisted suicide yet again, following the first reading of Baroness Meacher's Assisted Dying Bill, those of us opposed to any change in the law need to make the case afresh for something better. That's where understanding palliative care and appreciating it's importance comes into it's own.
Dame Cicely Saunders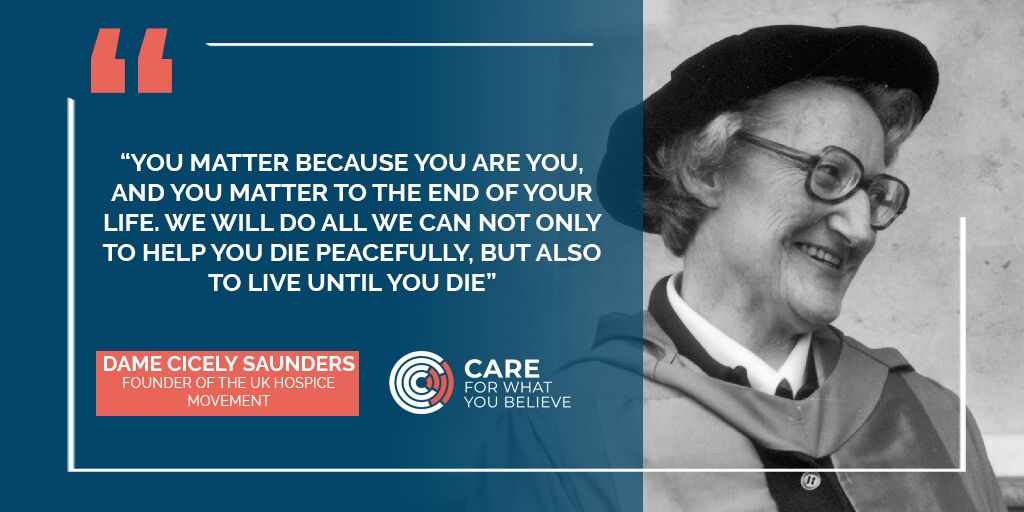 Let's start by talking about a most remarkable woman. Born on the 22nd of June 1918 in Barnet, Hertfordshire, Dame Cicely Saunders first trained as a nurse before going on to train as a doctor. From 1948, she was especially involved with the care of patients with a terminal illness and she lectured far and wide on this very topic. She wrote articles, contributed to books and became the UK's foremost advocate for quality end of life care.
In 1967, she founded St Christopher's Hospice. There you'd find expert pain and symptom control, alongside clinical research into looking after people who were dying. Through the work of St Christopher's, Dame Cicely's thinking and expertise around end of life care fundamentally changed the way society looks after the ill and the dying. She's considered the founder of the modern hospice movement. Her constant watchword was: 'there is so much more to be done'.
The genius of the approach pioneered by Dame Cicely was that it looked beyond just the medical needs. Care, Saunders insisted, must include the practical, emotional, social and spiritual needs of the patient. Families needed to be involved as well. Both the dying person and their family were a unit of care and part of the palliative care movement was supporting the bereaved family, as well as the needs of the dying patient.
Underpinning her passionate advocacy for quality end of life care was Dame Cicely's strong Christian faith. With its emphasise on the irreversible dignity of the human being, Christianity teaches that a person has a beautiful and intrinsic dignity from the point of conception right the way through the life's natural end. At no point is this dignity changed by circumstances. As Dame Cicely said: "you matter because you are you." The Bible says that every human is made in the image of God which means God has blessed human beings with unique abilities. This reality is why care, love and compassion should be extended to the very end of life. It was counter-cultural teachings like this that helped turn the world upside down!
What is pal­li­at­ive care?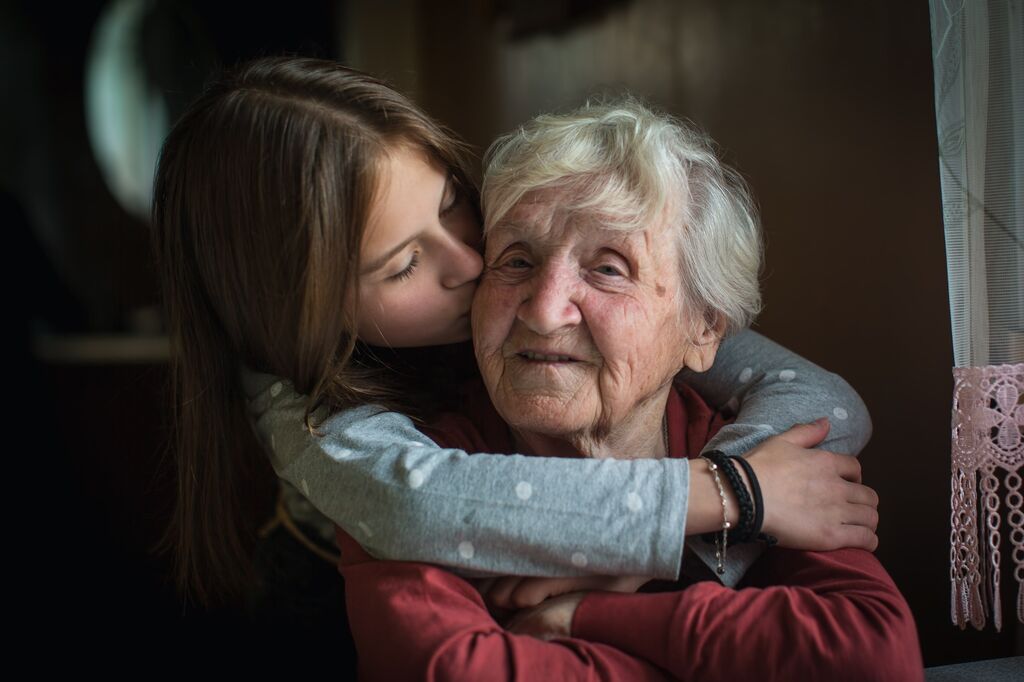 Palliative care is highly specialised form of medical care for people living with a serious illness. It's not just for those who are dying. It focuses on providing relief for symptoms and stress of illness. It's based on the needs of the patient and it is appropriate at any stage of life and can also be provided in conjunction with curative treatment.
According to the World Health Organisation:

Globally, around 40 million people need palliative care but 78% of then live in low-middle income countries. This means only around 14% of people who actually need palliative care receive it.

It's important to understand that palliative care involves care of the needs of the patient beyond just physical pain. Palliative care teams aim to provide holistic care for patients and their caregivers. The emotional needs of the patient and their family, plus the spiritual and social needs are considered and met, alongside the provision of genuine pain relief.
Another point to make again is that palliative medicine is not just for those who are dying or terminally ill. This is a common misunderstanding. End of life care may involve palliative medicine but it's not solely for those who are dying. Officially, those who are approaching the end of life are those who are likely to live for anther 12 months or less. So, you may be suffering from a non-terminal illness and still qualify for palliative care.
What dis­eases require pal­li­at­ive care?
There's a whole range of diseases which generally speaking require quality palliative care:
Cardiovascular diseases
Cancer
Chronic respiratory diseases
AIDS
Diabetes
Palliative care is also used to help people with Parkinson's, dementia, kidney failure and a range of other conditions.
Pal­li­at­ive care in the UK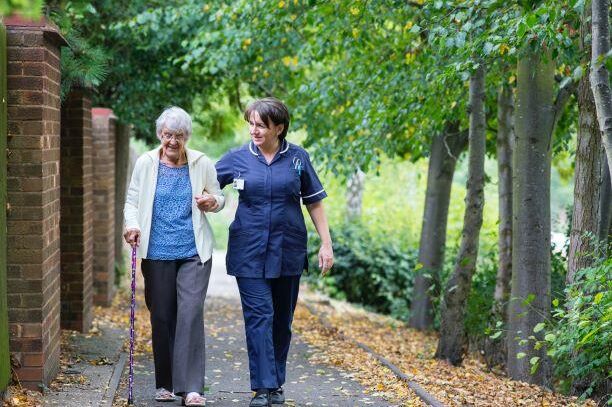 This is what the NHS website says about palliative care:

Palliative care may start with your GP or community nurses. But there are also specialists in the UK who provide it as well. There are consultants trained in palliative medicine, specialist palliative care nurses and specialist occupational therapists or physiotherapists.
If you want to find out about palliative and end of life care services in your area, you should start by speaking to your GP. Part of their job is to help you understand what's available in your area.
In a recent podcast recorded for CARE, Dr Kathryn Mannix, author of 'With the end in mind' puts great stress on the importance of planning ahead. By making sure someone in your family has a lasting power of attorney you can ensure that if you lose capabilities, someone is able to make decisions about your care.
Does it work?
In most cases, perhaps the vast majority, good palliative care helps with pain relief and also addresses some of the very underlying conditions which might lead a patient to consider assisted suicide.
The main issue is not the lack of effectiveness, but the lack of availability. Even in a developed country like the UK, palliative care provision is patchy. There's a postcode lottery, where access to it depends largely on where you live. It's estimated there could be as many as 118,000 people living in the UK who'd benefit from palliative care but are not receiving it.
This is why CARE has supported Baroness Finlay in recent years who has introduced her Access to Palliative Care Bill a number of times in the House of Lords. This would make various changes to existing laws and guidance to help improve the situation in respect to accessing palliative care and remove some of the barriers preventing access.
What are some of the challenges?
The UK has consistently ranked as one of the world leaders, if not the world leader when it comes to palliative medicine. We are one of the few countries in the world where we employ specialist palliative care doctors and nurses.
That said, alongside the postcode lottery of palliative care mentioned already, there is the also the need for more funding. The UK has an ageing population and a declining birth-rate. These two factors combined will put huge pressure on palliative care services that already exist. Without more funding, they are likely to be unable to cope with the demand, as is already the case.
One of the places where palliative care is especially important is in the hospice movement. There are more than 220 hospices in the UK, and they rely upon charitable donations to exist. Many are constantly facing funding challenges. For the sake of future care, it's vital people consider supporting these important institutions which help ensure our loved ones can die peacefully and with dignity.
Chris­tian­ity and end of life care
CARE has championed palliative care and the hospice movement because dying with dignity matters. There will always be incredibly hard cases in a fallen world where disease and sickness exist as part of the Fall (Genesis 3). But in response to Christ's command to love our neighbour, as we love ourselves, and in response to the glorious truth that all human beings have incredible dignity, we want to show the love of God by caring and supporting people at the very end of their lives.
To those who say, 'I don't want to be a burden', we respond by saying: be a burden! We will support you, love you, care for you and uncomplainingly sacrifice in order to help. All of us were a burden when we were born. We could not do anything for ourselves and we relied upon someone else to do even the basic things for us. This is part of the Christian story: God designed us so we would be a burden on others, which in turn, equips us as we grow and mature so we in turn carry the burdens of others, until that point where we again need more help than we can give.
Helping love older people, dying people, those who go through immense suffering is one way we can shine like stars as the Apostle Paul commands us. It also offers a powerful and much needed corrective in a society which often dismisses older people sees them as an unnecessary burden.
Here's how you can help
While you're here…
In this CARE Film, our CEO Nola Leach shares some of her experience caring for her husband Tony who passed away a few years ago.