What is the King's Speech and what was in it?
7 November 2023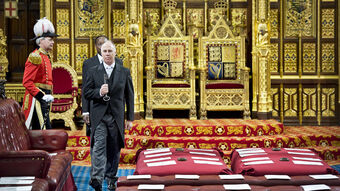 Earlier today, King Charles led his first state opening of parliament as monarch in an event known as "the King's Speech".
In this ceremony, involving both Houses of Parliament, the King reads out the UK Government's policy agenda for the coming parliamentary year. A debate follows in each house, with MPs and Peers scrutinising the speech, and seeking more information on its content.

What was announced?
The next session of parliament is likely to be the last one before a General Election – possibly in Spring next year, but more likely in the Autumn. Due to this, the agenda was not as broad as in previous sessions, and included less new legislation.
The government pledged to focus on economic growth and "ease the cost of living", aiming to "return inflation to target by taking responsible decisions".
There were also pledges on:
Transport – investment in train infrastructure in the midlands and north of England);
Education – new moves to reduce "poor quality" degrees and increase apprenticeships;
Trade – a bill will be introduced to build links with fast-growing economies, in the wake of Brexit.
Healthcare – the government promised to cut NHS waiting lists and bolster the NHS workforce.
The government will bring forward legislation to deliver a "smoke free generation" by restricting the sale of tobacco, and the marketing and sale of e-cigarettes to children.
There will be a Bill to reform the housing market and tackle "exploitation of renters".
Ministers will seek "record investment" in renewable energy, and push other nations to tackle climate change.
And they will commission a National Holocaust and Learning Centre, to challenge antisemitism.
Ahead of the speech, there was speculation about new - potentially controversial - criminal justice proposals.
The government confirmed that a bill will be published to "ensure tougher sentences for the most serious offenders and increase the confidence of victims".
A bill to "empower police forces and the criminal justice system to prevent new or complex crimes" such as digital crimes, child sexual abuse and grooming will also be taken forward.

The closing summary paragraph of the King's Speech, stated:
"My government will in all respects seek to make long-term decisions in the interests of future generations. My ministers will address inflation and the drivers of low growth over demands for greater spending or borrowing. My ministers will put the security of communities and the nation ahead of the rights of those who endanger it. By taking these long-term decisions, my government will change this country and build a better future."

Was there any­thing relat­ing to CARE's work?
The speech touched on several areas relating to CARE's work.
The government promised to "deliver on the Illegal Migration act passed earlier this year" and deliver on "international agreements to stop dangerous and illegal channel crossings and ensure it is the government not criminal gangs who decide who can come to this country."
CARE raised concerns about the Illegal Migration Act when it was passed because it watered down protections for modern slavery victims. The legislation enables potential victims to be deported – potentially back to dangerous situations – within 30 days, and makes it harder for at-risk people to come forward and get help from UK authorities.
It was welcome to hear about new legislation to tackle child sexual abuse and grooming, and a recognition that artificial intelligence needs to be "developed safely". CARE has long-standing concerns about the exploitation of women and children through online pornography – and these are heightened amid the emergence of new technologies.

The government's commitment to "put the security of communities and the nation ahead of the rights of those who endanger it" must be scrutinised closely. At the weekend, it was reported that controversial new proposals widening the government's definition of "extremism" are being drawn up by civil servants. In the past, vague criminal offences have posed a threat to civil liberties.
It is possible that backbench MPs will try to amend criminal justice proposals to bring in other changes, including abortion decriminalisation and a conversion therapy ban. Taking to Twitter this week, one MP pledged to hijack government legislation in a bid to decriminalise abortion.
Ministers have gone back and forth on plans to outlaw so-called conversion therapy over the last few months. Critics including CARE had raised concerns that well-intentioned legislation could undermine religious liberty, free expression, and parental freedoms. Although a ban was not mentioned in the King's Speech, Tory rebels have said they'll raise the issue again.
Elliot Colburn, a Tory MP who has campaigned for the practice to be outlawed, said backbench Tories were considering a plan to amend different legislation, such as a law-and-order bill, to call for a ban to protect gay and transgender people. "We're looking at every possible opportunity and we're definitely not going to let this drop", he said.
CARE will be monitoring this issue and others as the more detail about the government's plans emerge. You can stay up to date with developments by subscribing to our email list. For more background on the King's Speech, the UK Parliament website has a briefing.
Image attribution: UK Parliament Flickr under a creative commons license (Parliamentary copyright/Catherine Bebbington).