CARE decries unjust abortion judgment
Abortion
31 October 2023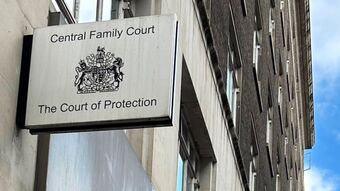 Press release | CARE has expressed profound sadness about a judgment allowing a mentally ill woman to undergo an abortion procedure.
The Court of Protection has ruled that a woman with schizoaffective disorder should get a termination – although she lacks mental capacity.
'Ms H' will undergo a medical abortion at a late stage of pregnancy. The use of "covert medication" and "restraint" have also been authorised.

Louise Davies, Director of Advocacy and Policy at CARE, described the decision reached in this case as "distressing". She commented:
"An abortion has been recommended for a vulnerable woman who lacks mental capacity to make life-changing decisions. She will undergo a 'medical' termination involving drugs that will kill her unborn baby and induce a miscarriage. These drugs will be given to her 'covertly', and 'restraint' will be used if necessary. The result will be the death of a precious unborn child, and significant, lasting trauma to a mother.
"This outcome is not compassionate, and it falls far short of the just decision-making God expects of governing authorities. My heart breaks for this woman. We should pray that she finds the healing and hope available through Jesus. Tragically, tens-of-thousands of babies are aborted in the UK every year. Awful cases like this are a reminder of the need to pray for a society where every human life is protected."
ENDS
Notes for Editors

The full Court of Protection judgment can be accessed here: H (An Adult; Termination), Re - Find case law (nationalarchives.gov.uk)
CARE is a social policy charity, bringing Christian insight to the policies and laws that affect our lives. Contact us: press@care.org.uk