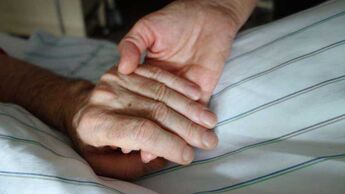 On Monday 4 July, in a Westminster Hall debate, MPs will debate a petition which calls on the UK Government to introduce assisted suicide legislation.
Here's 7 reasons MPs should oppose it.
1. It assumes there are no ethical difficulties with assisted suicide
Introducing assisted suicide would embed into our culture the idea that certain lives merit the active involvement of doctors for the purpose of ending their lives. This implicitly suggests their lives are not worthy of protection in certain circumstances, which from an ethical standpoint is deeply troubling.
2. It assumes any law would not be extended beyond the terminally ill
Assisted suicide is always proposed with talk of robust 'safeguards' to prevent abuses. However, international evidence is clear that any such 'safeguards' are often challenged and over time are eroded. For example, Canada passed assisted suicide legislation in 2016 and has already disposed of one of its key safeguards.
3. It assumes there will be no impact on those with disabilities
Assisted suicide legislation would be a regressive move because it would likely entrench a negative view of disability and the elderly.
4. It assumes no conflict with a suicide prevention focus
This fresh debate and calls for legislation on assisted suicide is out of step with the Government's focus on suicide prevention. Indeed, the Government is currently consulting on mental health to develop a new suicide place and refresh the 2021 strategy. This petition is poorly timed in this regard.
5. It assumes choice will not become an obligation
Put simple, any right to die could easily become a duty to die. Some have openly speculated that legalising assisted suicide could save money on healthcare costs. At present, some people who realise their treatment is expensive and feel a burden may feel pressured into an assisted suicide.
6. It assumes an assisted suicide would be 'peaceful'
Assisted suicide is not simply having an injection, falling asleep peacefully and never waking up again. Drug regimes in some places can lead to painful burning in the throat and stomach, involve the lungs filling with fluid and can otherwise cause distress. No safeguards can prevent complications on taking medication.
7. It assumes assisted suicide can sit alongside palliative care
When the evidence suggests that if you legalise assisted suicide, the palliative care sector can suffer from underinvestment. This is already an issue here in the UK and would be made worse if assisted suicide legislation were passed.
Fur­ther read­ing
&

watching