Roe v. Wade: Good societies esteem and protect both mother and child
Abortion
24 June 2022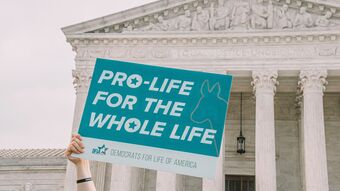 This afternoon, justices of the United States Supreme Court handed down an opinion which overturns Roe v Wade. The controversial 1973 opinion, and a subsequent ruling, 'Casey', established that abortion up to 20 weeks was a constitutional right.
Describing abortion as a "profound moral question", the ruling states: "The Constitution does not confer a right to abortion... the authority to regulate abortion is returned to the people and their elected representatives".
While today's ruling does not stop abortion in America from happening, some states have already indicated they will pass life-affirming laws. It is predicted that more than 20 states could seek to significantly restrict access to abortion.
Ross Hendry, CEO of social policy charity Care, commented:
"Care believes the lives of mothers and babies have equal value. The most compassionate societies esteem and protect both. We therefore welcome the US Supreme Court's historic decision to overturn Roe v Wade.

"At Care, we believe there is no right to take another human life, including a preborn baby's life. And we affirm the democratic norm of decisions about important issues being taken by citizens and their elected representatives.

"Limiting access to abortion must be accompanied by appropriate support for women experiencing crisis pregnancies, and families raising children. This is what a true pro-life ethic looks like.

"We will continue to advocate for a society that celebrates, respects, and protects human life from conception until natural death."
ENDS
About CARE
Christian Action Research and Education (CARE) provides analysis of social policy from a Christian perspective.
For more information or to request an interview, contact Jamie Gillies | jamie.gillies@care.org.uk