MLAs vote down bill to end disability discrimination in abortion law
Abortion
14 December 2021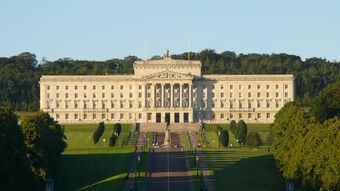 Members of the Northern Ireland Assembly (MLAs) have voted down legislation designed to end disability discrimination in an abortion framework imposed by Westminster in 2019.
This afternoon, the Severe Fetal Impairment Abortion (Amendment) Bill was defeated by 45 votes to 43 at consideration stage.
There had been wide support for the central aim of the proposals – to remove a rule in abortion regulations allowing abortion up to birth in cases of a "severe fetal impairment" - at previous stages.

In Great Britain, this rule has been interpreted to include babies with disabilities like Down's Syndrome and cleft palate.
Ross Hendry, CEO of CARE, commented:
"We're deeply saddened to see these proposals defeated. As well as providing greater protections to preborn disabled babies, they would have sent a strong message that the lives of people with disabilities are just as valuable as those who are considered 'able bodied'.
"The bill before Stormont should have been uncontroversial. It was about providing very limited and specific protections to disabled babies – protections that are supported by campaigners, human rights experts, and a huge majority of people in Northern Ireland.
"CARE will continue to seek the welfare of unborn babies, mothers, and the family through equipping and mobilising the church, arguing the case for vital reforms through the democratic process, and supporting others who take action. We hope Christians will continue to join us in this work."

During proceedings Christopher Stalford MLA stressed that NI abortion provisions, as currently drafted, compound disability inequality.
"The law, as currently drafted, affords greater protection to human beings in the womb who are deemed to be able bodied, than it affords to human beings in the womb who have non-fatal disabilities, like Down's syndrome", he said.
"The current law says to mothers of babies with conditions like Down's Syndrome, that their child, in their womb, is of less value and less worthy of protection than a baby without Down's syndrome.
"The reality is because of this law people with disabilities in our society feel less valuable and in turn it encourages our society to view people with Down's syndrome, and other non-fatal disabilities, as less valued."
NI First Minister Paul Givan, who was the original sponsor of the bill before becoming First Minister, said it was about protecting the human rights of disabled people: "This Bill gives us an opportunity to say to them, that we in this House place a high value on their lives."
The First Minister paid tribute to Heidi Crowter, an English campaigner with Down's Syndrome who is currently part of a legal challenge against abortion laws in England and Wales.
Mr Givan also quoted Lord Shinkwin, a Peer with a disability, who has urged abortion law reform. Commenting on the NI abortion regulations, Lord Shinkwin said:
"I am a severely disabled parliamentarian who believes that I have as much right to exist as anyone else. The regulations may not apply to me directly, but they still threaten me because they challenge that right by devaluing my existence. The narrative of the regulations is that I should not really exist. Indeed, I would be better off dead."