Disability Rights Campaigner addresses Stormont Committee and calls for abortion law change
Abortion
12 March 2021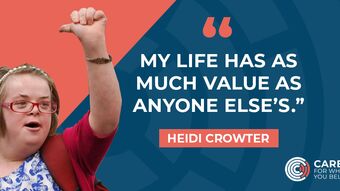 Lynn Murray, spokesperson for 'Don't Screen Us Out' also gave evidence to the Committee. She said:
Bill will amend the West­min­ster imposed abor­tion laws
If passed, the Severe Fetal Impairment (Abortion) Bill will amend Regulation 7(1)(b) of the Abortion (Northern Ireland) Regulations 2020, which were imposed on Northern Ireland last year, by Westminster.
After that had happened, MLAs debated and voted on a motion rejecting abortion to birth in cases of non-fatal disabilities like Down's syndrome, club foot or cleft lip.
That motion was approved by a majority of MLAs and a similar motion was also agreed to. In total, 75 out of 90 MLAs voted for the motions to stop abortion to birth for disabilities.