Govt admits age verification on online porn will not happen, breaking Manifesto commitment
Online Safety
17 December 2020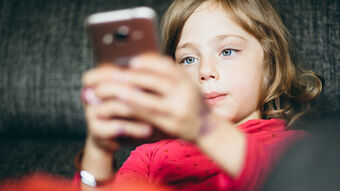 During a debate in the House of Lords on Wednesday afternoon, the UK Government admitted its new online harms bill will not provide robust, age verification controls to help protect young people from harmful, pornographic content online.

For months now, MPs have been pressing the Government over its failure to implement Part 3 of the Digital Economy Act which was passed by both Houses of Parliament in 2017 and which made provision for age verification to commercial, online pornography to be introduced.
That failure comes despite MPs and Peers approving the regulations to put age verification into effect. When the Minister announced in the Commons on 16 October 2019 that the scheme was being dropped, some assurances were given that the issue of commercial, online pornographic websites would still be addressed through the new bill.

However, in its response to the white paper on online harms, the Government seemed to indicate it would only introduce 'age assurance' controls, which are essentially a watered down version of age verification.
One of the strengths of Part 3 of the DEA and of the age verification plan was it address commercial, online porn in the round. It recognised that children are harmed by pornographic website from overseas, for example and the law needed to reflect this reality.
During the exchange in the Lords, however, the Government admitted they are only interested in protecting children from user-generated pornography, not pornography in general. This is a narrower approach and falls short of what Part 3 of the Digital Economy Act would have achieved.
In other words, the Government is completely reneging on its 2015 manifesto commitment where the Government promised to stop children's exposure to harmful sexual content online by requiring age verification to access all sites containing pornographic material.
The relevant parts of the debate are included, in full, below:
Bar­on­ess Benjamin
"My Lords, today I was contacted by a very concerned mother, who asked me two questions which I would like to put to the Minister. First, why have the Government decided to seek to protect children only from user-generated pornography when, back in 2015, they committed to stop children's exposure to harmful sexual content online by requiring age verification to access all sites containing pornographic material? Secondly, how will the Government protect children from user-generated pornography through fines on sites based abroad, when they are not subject to our law enforcement? I plead with the Government, in the interim, to implement Part 3 of the Digital Economy Act. This would protect children from pornographic sites based outside the UK, through its blocking provision, until the proposed watered-down version of age assurance becomes law, which could be in two to five years."
Bar­on­ess Bar­ran — speak­ing for the Government
I understand the concerns raised by the noble Baroness and by the mother to whom she has spoken. There are not many parents in the land who have not had some of her concerns. We are focusing on user-generated content because we believe that will capture the vast majority of pornographic and inappropriate behaviour that children witness. However, as I said in response to an earlier question, we will keep it under review. Our ambition is to keep children safe. Ofcom has business disruption and ISP blocking within its powers, which would prevent children in this country seeing international content.
Lord McColl
Because of its focus on user-generated content, it is quite clear that the online harms Bill greatly weakens the protection afforded to children in relation to assessing pornographic websites. This House determined that they should be provided through Part 3 of the Digital Economy Act, as the noble Baroness, Lady Benjamin, mentioned. Who has pressed the Government not to implement Part 3? What should I tell a concerned father who contacted me this morning, saying, "The Government promised to protect children from pornographic websites, not just user-generated content on pornographic websites"?
Barness Bar­ran
I understand my noble friend's concern but, as I said to the noble Baroness, Lady Benjamin, the vast majority of pornographic content that children come across is on social media rather than online pornography sites, and those online sites are often intertwined with user-generated content. So we are confident that the vast majority of content will not be accessible to children.
Lord Mor­row
Do the Government really believe that this House, which passed Part 3 of the Digital Economy Act 2017 to give effect to the Conservative manifesto commitment of 2015, would accept the much weaker proposal set out by the Government yesterday for protecting children from accessing pornographic websites? The Government seem to think that, because they now propose to do things to address other online harms, including access to pornography on Twitter, we would somehow be prepared to overlook the fact that they propose putting children in a more vulnerable position with respect to their protection from pornographic websites. I urge the Government to adjust their course and ensure that the protections in their online harms Bill are just as robust as those in Part 3 of the Digital Economy Act, and to implement Part 3 in the interim so that children can be protected while we wait for the online harms Act.
Bar­on­ess Barran
I shall avoid repeating what I have said already on this issue. The focus in the Bill will put the responsibility on the platforms to have strong safety measures to protect children from accessing pornographic and other inappropriate content. If they do not do that, parents and children can report them and Ofcom will take enforcement action.
What hap­pens next?
The online harms bill is expected to be introduced next year. There will be plenty of opportunity for changes to be made and for MPs and Peers to raise the issue of age verification and commercial online pornography.