Scots face "sinister postcode lottery" when it comes to options at end of life
Assisted Suicide
16 November 2023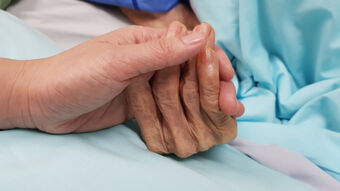 Campaigners against assisted suicide have warned that terminally ill patients living in poverty in Scotland are caught in a "sinister postcode lottery".

People living in more deprived areas of the country are more likely to receive a late diagnosis for life threatening illnesses, in turn permitting them access to assisted suicide.
The warnings have surfaced after the issue of poverty and terminal diagnosis was raised in Holyrood, Scotland this week.
Liam McArthur MSP's Private Member's Bill is set to face Parliament. This Bill would allow patients with a terminal illness access to assisted suicide.
But Dr Miro Griffiths, disability studies scholar and spokesman for the Better Way campaign, said: "We are deeply concerned that changing the law would expose terminally ill Scots facing poverty to new, unprecedented dangers, and severe forms of inequality.
"People living in deprived areas of the country are more likely to present with cancer at a late stage, and more likely to face barriers accessing palliative care. This group would be more eligible for 'assisted deaths' than wealthier Scots in a sinister postcode lottery.
"In jurisdictions such as Canada, the cost-saving benefits of assisted dying have already been touted by authorities. There is a risk that in Scotland, assisted deaths will be incentivised as a cheaper alternative to more conventional end-of-life care.
"An assisted suicide framework could seriously compound existing social inequalities and single out the poorest in society for unjust treatment."
Support for assisted suicide has shown to be very mixed with First Minister Humza Yousaf feeling "less persuaded" on its introduction following discussions with disability campaigners.
In recent months the general assembly of the Church of Scotland has suspended its historic opposition to the issue.