Anti-Slavery Day 2023: UK victims face greater risks than in past years
Human Trafficking
18 October 2023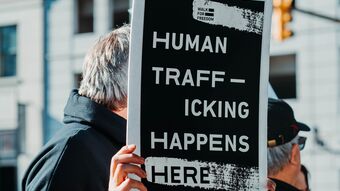 Modern slavery victims in the UK face greater risks today than in previous years due to a controversial government policy, CARE has said.

Speaking as victim support organisations across the UK mark Anti-Slavery Day 2023, Dr Rebecca Stevenson, CARE's trafficking policy expert, said:
"Alongside other charities, CARE warned that the Illegal Migration Bill would do nothing to help victims of human trafficking and modern slavery. In fact, we are concerned that the new approach introduced by this legislation is likely to undermine efforts to identify victims and ensure that justice is served.
"As we mark Anti-Slavery Day 2023, it is deeply regrettable that victims have less protections today than they did in previous years. Victims already face huge barriers to coming forward and will find it more difficult to do so when seeking help could see them quickly deported, and potentially re-exploited – as the law now permits. Many will conclude that it's better to stay quiet.
"Modern slavery remains a high-profit, low-risk crime and conviction rates are low. We need to identify more victims and gather the evidence required to convict criminals. This is more challenging in an environment where people fear engaging with the state. We urge Ministers to do the right thing and re-think their approach."
ENDS
Notes for Editors
CARE is a social policy charity, bringing Christian insight to the policies and laws that affect our lives. Contact us: press@care.org.uk
CARE: Politics renewed, lives transformed