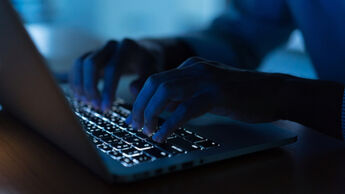 This week saw a flurry of media reports about the Online Safety Bill, with the legislation finally due to return to the Commons on Monday (please pray!). The UK government announced a series of changes, especially in relation to the 'legal but harmful' section, which had proved highly controversial. But what else has changed? And is it good news? In this Q&A, our policy expert Tim Cairns is on hand to answer all these questions....

What is the Online Safety Bill?
The Government made a commitment in their 2019 manifesto to introduce, what they described as, ground-breaking regulation of the tech sector. This commitment became the Online Safety Bill, which seeks to regulate social media, user-generated content and search engines ensuring that they are compelled to remove illegal material from their platforms, with a particular emphasis on protecting children from seeing harmful content. The Bill as originally introduced also sought to stop adults seeing material online that was legal but may well be harmful.
The Bill makes Ofcom the regulator for the internet and any company found to break the rules set down in the legislation, would face large fines and restrictions.
Some of the Bill may seem familiar and it is! The Bill seeks to regulate and restrict online pornography, which was already legislated for in 2017 in Part 3 of The Digital Economy Act. These provisions were not implemented, because the Government stated they wanted to go further and add more protections.
Why is the Bill controversial?
Most of the media attention surrounding the Bill has focused on the 'legal but harmful' created by the legislation. Under original proposals, the Secretary of State would be given power to state that some things which were legal would be designated as harmful and would not be permitted to be published online. For most online content this test is a good one. The recent Molly Russell public inquiry highlighted that many easily accessible social media platforms carried content that is potentially harmful, especially to children. This includes pornography, self-harm, information encouraging eating disorders and certain types of advertisements.
The controversial aspect to the legal but harmful test was how it may apply to speech and in particular the curbing of free speech online. Social media companies and the Government could potentially prevent online discourse on any subject simply because they disagreed with it and believed it may be harmful. This approach had obvious repercussions for Christians online.
What changes has CARE campaigned for in the Bill
CARE has campaigned to ensure:
Children are unable to access online pornography through a law that ensures ages are robustly verified before any pornographic content can be viewed.
That the same rules which apply to pornographic content offline are applied online. Offline a test similar to 'legal but harmful' is used to ensure that some types of content are prohibited from being shown in cinemas or sold on DVD in the UK. This should apply online as well, anything prohibited offline should be prohibited online.
That any pornographic content that is published online has the full consent of those participating in the video and a law should be put in place to allow people to withdraw their consent at a latter date. If consent is not clearly given or if it is withdrawn, this content must not be shown online.
That free speech is upheld and that Christians are not prevented from expressing their views in online platforms, such as social media.
What Changes have the Government announced?
The Government have removed the legal but harmful provision from the Bill. While this may be welcome as regards free speech, the removal of this test weakens the Bill in respect of other reforms, especially in relation to pornography.
The Government have promised that they will add provisions to the Bill that will prevent children from seeing harmful content, but they will amend the Bill to ensure that any content, even if it is harmful to adults, will still be available online provided it is legal.
What is CARE's view on the changes?
CARE welcomes the Government removing the legal but harmful test in so far as it relates to speech. However, we are concerned that this will weaken the Bill in respect of other protections, particularly in respect of pornographic content. Further, we are concerned that the Government's current proposal may mean that all speech is regulated by tech companies and this may be a detrimental outcome.
What is CARE calling for?
CARE believes the Bill still needs substantial change. The removal of the legal but harmful test only intensifies the need for a special section of the Bill dealing with pornography. This should ensure that:
Anyone under the age of 18 is prevented from seeing pornography online. The Bill currently differentiates between different types of websites. The duties on social media companies and user generated pornography companies is a different standard than what is required for other types of online providers. Age verification does not need to be complicated. The law should be, if pornography is hosted anywhere on that site, the operators of that website should take robust steps to stop children access the content.
The law that regulates what content can be accessed offline in the UK should mirror the law online, the Bill does not do this and material that would be prohibited offline is not prohibited online. CARE continues to campaign to ensure that offline and online content is regulated in exactly the same way.
All websites and social media companies should ensure that all participants in online content are over 18 and that proper consent has been obtained.
New provisions on speech must not allow tech companies to decide what is harmful speech as experience shows they will determine harm as being what they disagree with, which could have negative connotations for Christian discourse online.