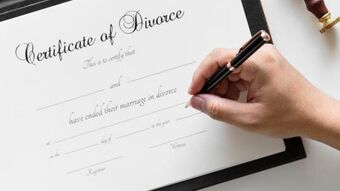 The cost-of-living crisis is placing huge pressure on married couples, lawyers have warned, as they note a steep rise in divorce enquiries.
Data from the UK's largest family law firm, Stowe Family Law, shows lawyers receievd 4,129 enquiries last month - a record high.
It's a 25 per cent rise on May this year and a 34 per cent rise on July 2021 when a shocking 3,089 queries were recieved.
Stowe Family Law said that just over half of UK couples say there is tension in their relationship as a result of the cost of living crisis.
A higher seven in ten couples are concerned that their relationship will not make it through the spiralling economic crisis.
In February, a divorce industry insider warned that the UK's divorce rate could spiral following the introduction of 'no-fault' divorce legislation.
James O-Brien, who works for a company enabling "easy divorce" online, suggested the rate may surge by as much as 50%.
CARE opposed the Divorce, Dissolution and Separation Act, arguing that relaxing rules will compound family breakdown.
James Mildred, CARE's Chief Communications Officer, has said:
"Marriage is important for society and benefits parents, children, and communities. Making divorce easier undermines marriage and our concern has always been that if you make something easier to obtain, more people will choose it.

"Marriage is one of the most important public commitments one can make. Strong marriages make for strong families which make for a strong society. We call on the Government to ensure more funding for relationship support services to make sure the priority is on helping couples stay together."