Clubs urged to ditch gambling sponsors
Gambling
4 August 2022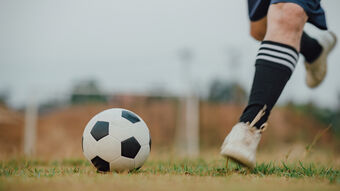 A group of ex-gambling addicts and family members of people who died as a result of gambling-related suicide are urging football clubs across the UK to end gambling sponsorship.
Footballers Supporters Against Gambling Adverts hopes to secure over a million signatures in petitions, to pressure clubs to terminate all existing gambling partnerships and pledge to reject future deals.
"Nowhere is gambling's pernicious presence felt more than in football, which acts as the 'hook' that draws young, first-time gamblers in, setting them up for a lifetime of addiction," the group states.
On 4 July, the Premier League asked clubs to vote on whether to introduce a voluntary ban on gambling sponsorships on shirts before potential government intervention.
The Premier League has backed plans for clubs to voluntarily phase out gambling sponsors over three years, but any change in league rules would need 14 of the 20 clubs to vote in favour of it.
The news comes after a study revealed adverts are causing punters to gamble in an "unplanned" way, with a higher rate of unplanned spending among those classed as problem gamblers.
The study, by Glasgow and Stirling University researchers, looked at how often people gamble, if they had seen gambling marketing, and if marketing had caused them to gamble in an "unplanned" manner.
In the survey of regular sports bettors, 31.2% of respondents said that betting "marketing had prompted unplanned gambling spend in the past three months" for them.
Affirmative responses were much higher among the 162 respondents who were classed as problem gamblers, as 87% of these people said that marketing had prompted unplanned spending.
A whitepaper on reform of Britain's outdated gambling laws has been delayed several times by the UK Government, prompting concern among gambling campaigners.
It was due to be signed off by Boris Johnson before he announced that he would be stepping down as Prime Minister. The plans are now on hold until a new Tory party leader is in place.
CARE has expressed profound disappointment about repeated delays to promised reforms, and stressed that people in the UK are dying because legal safeguards are insufficient.
Learn more about CARE's views in our response to a government consultation on gambling reform: