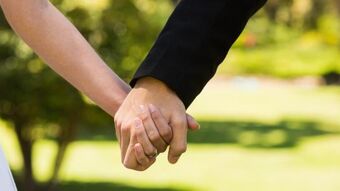 The number of marriages taking place in England and Wales has dropped to the lowest level since records began, data analysed by the Office for National Statistics shows.
According to the organisation, there were 18 marriages per 1,000 unmarried men, and 17 marriages per 1,000 unmarried women in 2019 - the lowest figures since 1862.
The number of men and women getting married has fallen by 50 per cent since the peak year in 1972, with couples instead choosing to cohabit as a "precursor" or "alternative" to marriage, the ONS said.
The age of couples getting married also reached a record high before the COVID-19 pandemic. The average age of men getting married was 34.3, and 32.3 for women in 2019.
The previous record age was 31.6 for men and 29.4 for women in 1999 - significantly higher than 50 years ago. In 1969, the average was 23.7 and 21.8 for men and women respectively.
Earlier this month, data from Eurostat, the European Union's statistical office, showed marriage has declined steadily in EU nations over the last six decades, whilst divorces have doubled.
Recent data for 2020 shows that the marriage rate is down to 3.2 per 1,000 people in EU member states, compared to 8.0 per 1,000 people in 1964.
The divorce rate has doubled in this period, with 1.6 divorces per 1,000 people in 2020, compared to 0.8 divorces per 1,000 people in 1964.
CARE believes marriage is one of the most important public commitments a person can make, and that strong marriages make for strong families, which make for a strong society.
Learn more about our work championing marriage and the family | CARE for Marriage and Family