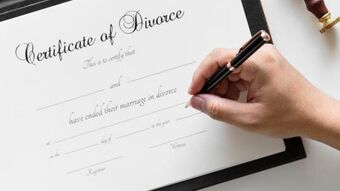 The marriage rate in European nations has declined steadily for the last six decades whilst divorces have doubled, statistics reveal.
New data for 2020 from Eurostat, the European Union's statistical office, shows that the marriage rate is down to 3.2 per 1,000 people in EU member states, compared to 8.0 per 1,000 people in 1964.
The divorce rate has doubled in this period, with 1.6 divorces per 1,000 people in 2020, compared to 0.8 divorces per 1,000 people in 1964.
There was a slight fall in marriages in divorces in 2020 compared to the previous year, which is thought to be related to lockdown measures implemented during the pandemic.
States with the higher number of marriages relative to population were Hungary, Latvia, and Lithuania. States with the lowest marriage take-up were Italy, Portugal, Spain and Ireland.
In 2020, the countries with the lowers number of divorces relative to population were Malta, and Slovenia. The highest number of divorces were recorded in Latvia, Lithuania and Denmark.

Not all countries in the EU were included in the data, and the United Kingdom was excluded following its departure from the EU.
In recent years, there has been a surge in divorces in Britain. The Office for National Statistics shows that in England and Wales, there were 107,599 opposite-sex divorces in 2019 — an increase of 18.4% from 2018.
In February, experts warned that the UK's divorce rate could rise significantly following the introduction of controversial 'no-fault' divorce legislation.
James O-Brien, who works for a company enabling "easy divorce" online, suggested the rate may surge by as much as 50% following the commencement of the Divorce, Dissolution and Separation Act.
The law, which came into effect in April, removed a previous requirement to provide a statement showing irretrievable breakdown before a divorce can happen.
Speaking last year, when no-fault divorce was supposed to come into force, CARE's Chief Communications Officer James Mildred commented:
"Marriage is important for society and benefits parents, children, and communities. Making divorce easier undermines marriage and our concern has always been that if you make something easier to obtain, more people will choose it.

"Marriage is one of the most important public commitments one can make. Strong marriages make for strong families which make for a strong society. We call on the Government to ensure more funding for relationship support services to make sure the priority is on helping couples stay together."