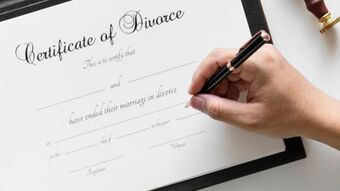 A new "no-fault" system of divorce in England and Wales has led to an avalanche of applications, the Ministry of Justice has said.
In the course of a week, 3,000 applications were received starting divorce proceedings. Lawyers say this is around 50% more than in a typical week under the previous law.

New 'no-fault' divorce rules came into effect in England and Wales on 6 April. Under the new system, a spouse can simply walk away from the marriage without giving a reason.
Divorces will take place in a new, streamlined system that will allow the process to be done and dusted in six months, or less if the court decides.
CARE has expressed concern that ditching 'fault-based' rules will lead to injustice against wronged spouses, and lead to more divorce, and more family breakdown.
Speaking last year, when no-fault divorce was originally due to come into force, CARE's Chief Communications Officer James Mildred commented:
"Marriage is important for society and benefits parents, children, and communities. Making divorce easier undermines marriage and our concern has always been that if you make something easier to obtain, more people will choose it.

"Marriage is one of the most important public commitments one can make. Strong marriages make for strong families which make for a strong society. We call on the Government to ensure more funding for relationship support services to make sure the priority is on helping couples stay together."