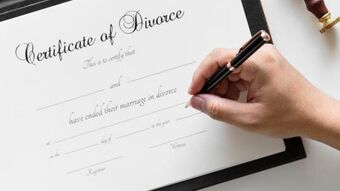 A major study demonstrates the awful impact divorce has on children, suggesting that it undermines their educational attainment more than the death of a parent.
The study, published by Demographic Research and based on data from 17 countries, shows experiencing divorce has a particularly detrimental impact on children of higher-educated parents.
In recent years, there has been a surge in divorces in Britain. The Office for National Statistics shows that in England and Wales, there were 107,599 opposite-sex divorces in 2019 — an increase of 18.4% from 2018.
Divorce enquiries to law firms also soared during the Covid-19 pandemic, with lockdowns and social distancing ending previous routines that may have alleviated marital tensions. Lawyers fear they will be unable to cope with demand.
Today, new 'no-fault' divorce rules come into effect in England and Wales. Under the new system, a spouse can simply walk away from the marriage without giving a reason.
Divorces will take place in a new, streamlined system that will allow the process to be done and dusted in six months, or less if the court decides.
Marriage campaigners have expressed concern that ditching 'fault-based' rules will lead to injustice against wronged spouses, and lead to more divorce, and more family breakdown.
Commenting on the new study in Unherd, British-Bangladeshi writer Dr Rakib Ehsan said:
"With family courts suspending operations over the course of the pandemic, Britain could be on the verge of a post-Covid divorce explosion — especially with the liberalising reforms".

"For decades that mainstream has consistently undervalued the negative impacts of divorce. The Demographic Research study confirms that parental divorce can be an incredibly traumatic experience for children.
"While it is admittedly sensitive territory, there now needs to be a frank national conversation on the risks of marital breakdown and the degree of public respect for marriage as a social institution with moral obligations."