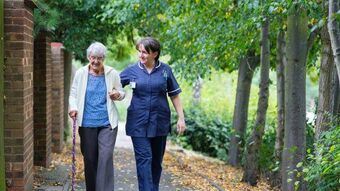 For the first time in the history of the NHS, dying people will have an explicit legal right to healthcare, with every part of England to provide specialist palliative care.
According to the story in the The Times, end of life charities have hailed the news as a 'milestone' moment that will help end the postcode lottery of palliative care.
Analysis from Marie Curie suggests around 215,000 people a year miss out on end-of-life care and without this legal change, this could rise to 300,000 within the next two decades.
The UK government will back an amendment from Baroness Finlay to the Health and Care Bill in the Lords.
CARE has worked with Baroness Finlay and others over the last few years to champion legislation designed to extend the availability of palliative care across the whole of England. Evidence suggests palliative care investment suffers when assisted suicide is legalised.
CARE CEO Ross Hendry welcomed today's news and said high quality palliative care is "the right approach to ensuring every person can die well with dignity":

"Today's announcement by the UK Government is truly historic. For many years, those engaged in end-of-life care have warned about serious and growing gaps in provision. It is past time a legal right to care was established, to ensure all people have the support they need at the most challenging time any of us face. We warmly welcome the government's pledge and congratulate Baroness Ilora Finlay in particular on the success of her long-running campaign for change.

"This announcement comes as the UK is again embroiled in a sensitive debate about issues at the end of life and 'assisted dying'. CARE strongly believes that providing high quality palliative care for every person is the right approach to ensuring every person can die well with dignity. We should not concede to voices that are demanding dangerous and regressive changes that will undermine patient safety, dignity, and equality. We want a society where hope and help are at the centre of our response to human suffering, not lethal drugs."
Speaking today about the news, Baroness Finlay told The Times:
Cyn­ic­al attempt to impose assisted sui­cide via gov­ern­ment bill