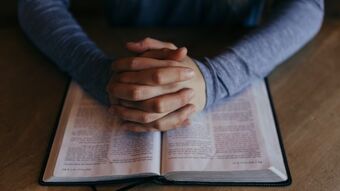 Scottish Parliamentarians have proposed a radical and far-reaching ban on conversion therapy.
Holyrood's Human Rights Committee wants to ban all "directive" teaching and prayer on sex and sexuality.
It believes the expression of orthodox beliefs by Christians, Muslims, Jews, and others should be curtailed.
A report by the Committee released this week implies that members of religious communities need to be 're-educated' to accept secular views.
A ban on conversion therapy is also being considered in England. However, Ministers have said they are committed to protecting people from harmful practices whilst also respecting religious liberty.
Commenting on the Scottish report, CARE CEO Ross Hendry said:
"It's clear that in the past individuals have been harmed and forced to endure physical, emotional, and spiritual pain through practices that no-one should condone.
"For that reason, we support a ban on physical acts of 'therapy' as inconsistent with God's call for us to freely come to him through Jesus and the Church's call to model love, grace, and hope.
"However, the scope of the Scottish proposals is alarming. Politicians have a responsibility to safeguard everyone's freedom to worship and live out their beliefs. Wide definitions lead to bad laws and worse outcomes.
"Whilst taking evidence on conversion therapy, MSPs heard legitimate concerns about the potential for free expression and religious liberty to be undermined. These appear to have been ignored.
"A ban based on these recommendations has the potential to enshrine persecution against people with religious or gender critical beliefs in Scotland. We call on MSPs to think again."
A consultation on the UK Government's conversion therapy proposals closes on 4 February. If you would like to read some advice on how to respond to the consultation and an explanation of the key issues you may find resources by the Evangelical Alliance helpful.