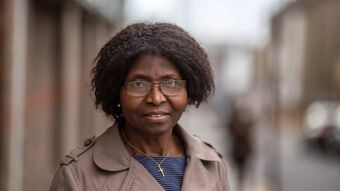 A Christian nurse who said she was victimised for wearing a necklace with a cross at work has won a challenge against the NHS for unfair dismissal.
Mary Onuoha was repeatedly asked to remove her necklace by bosses at the Croydon hospital where she worked. The wearing of jewellery and religious paraphernalia was tolerated for staff with other faiths and beliefs.
After refusing to remove the necklace, Ms Onuoha was suspended from clinical duties then demoted to working as a receptionist. She then resigned and claimed constructive and unfair dismissal.

An employment tribunal ruling handed down this week said that NHS bosses had "directly discriminated against and harassed" Onuoha, and that her "dismissal had been both discriminatory and unfair".

Ms Onuoha said: "My cross has been with me for 40 years. It is part of me, and my faith, and it has never caused anyone any harm.
"At this hospital there are members of staff who go to a mosque four times a day and no one says anything to them. Hindus wear red bracelets on their wrists and female Muslims wear hijabs in theatre.
"Yet my small cross around my neck was deemed so dangerous that I was no longer allowed to do my job. I am a strong woman but I have been treated like a criminal."
Andrea Williams, chief executive of the Christian Legal Centre which supported Onuoha's case, said: "Any employer will now have to think very carefully before restricting wearing of crosses in the workplace."