Give human trafficking victims long-term support CARE NI tells Justice Committee
Human Trafficking
12 November 2021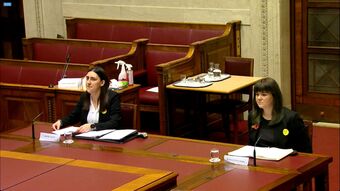 Members of the CARE NI team gave evidence yesterday to the Justice Committee at the Northern Ireland Assembly on the importance of long-term support for modern slavery victims.
The Committee is considering the Justice (Sexual Offences and Trafficking Victims) Bill which passed its Second Stage in September.
Part of the legislation deals with matters relating to human trafficking or exploitation and in a detailed submission to the Committee, CARE NI made several suggestions to improve the Bill.
Opening the evidence session, Lauren Agnew, Human Trafficking and Sexual Exploitation Policy Officer for CARE said the group supports the changes proposed by the Bill.
But she pointed out that Northern Ireland provides support for potential victims of human trafficking but not for confirmed victims.
CARE NI is calling for an amendment to the bill which would give confirmed victims at least 12 months support.
Bex Stevenson, CARE NI Policy Officer said that the number of potential trafficking victims was increasing but this was not matched by higher prosecution rates.
She said 'risk orders' should be added to the Justice Bill. These orders are in place in England and Wales and can be applied for when 'a person's behavior indicates there is a risk they may commit a modern slavery or trafficking offence.'
This is useful where 'there is suspicion trafficking may have been involved'.
A number of MLAs spoke positively about CARE NI's call for 12 months support for confirmed victims, with Ulster Unionist MLA Doug Beattie saying it was something 'we [the Committee] could get behind".
CARE is also advocating for long-term support for confirmed victims in England and Wales as well. Lord McColl's Modern Slavery (Victim Support) Bill would ensure confirmed victims have at least 12 months support.
That Bill is currently waiting for a second reading in the Lords.
During the evidence session, CARE's Lauren Agnew also mentioned the UK Government's Nationality and Borders Bill which is going through the Commons and waiting for a date for Report Stage.
There are some clauses in the legislation which relate to human trafficking and CARE is calling for an amendment to improve the level of support for victims.
Find out more about CARE's concerns about the Nationality and Borders Bill by reading the briefing.