Call for greater victim support after Stormont modern slavery event
Human Trafficking
2 November 2021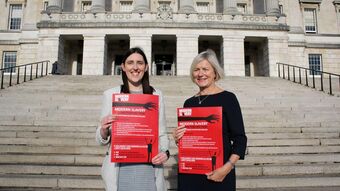 On Monday, the UK's Independent Anti-Slavery Commissioner, Dame Sara Thornton, set out her priorities for victims of modern slavery and human trafficking at the Northern Ireland Assembly.
Following the event, CARE called for cross-party work to establish better support for modern slavery victims in NI. Lauren Agnew, Human Trafficking and Sexual Exploitation Policy Officer at CARE for NI, commented:

"It was encouraging to see people from across the sector come together this afternoon to draw attention to modern slavery and human trafficking, a crime which goes largely unseen and undetected.
"As the Anti-Slavery Commissioner noted in her remarks, it is vital that victim care and support remains a priority in the coming months to meet a rise in confirmed cases of exploitation. Identifying and rescuing these individuals from their situation of exploitation is only the first step.
"The current discretionary support provided to confirmed victims is simply not good enough. Victims need at least 12 months of statutory support to provide them with the stability and certainty needed to begin to rebuild their lives following exploitation. This should include access to safe accommodation, benefits, mental health programs and education.
"MLAs have an opportunity to provide longer term support, whilst also improving enforcement and prosecutions and aiding prevention through sustained and effective awareness-raising. With cross-party collaboration and expert input, we can continue to see positive, world-leading action across this island."
Pictures of the event