Scottish proposal suggests approving assisted suicide 'via Zoom'
Assisted Suicide
14 October 2021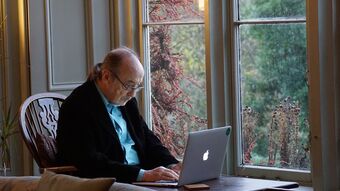 Scottish assisted suicide proposals raise the prospect of doctors signing off requests for an 'assisted death' via Zoom, campaigners reveal.
Care Not Killing, a group that opposes assisted suicide and euthanasia in the UK, points to details buried in a consultation on Holyrood proposals brought forward by Liberal Democrat MSP Liam McArthur.
The document suggests that patients who are unable to travel due to frailty or disability could be assessed via telemedicine before being granted help to commit suicide.
Elsewhere in the document, the economic incentives of legalising assisted suicide are discussed.
A footnote references a cost analysis by the Canadian Government estimating that the practice "could reduce annual health care spending across Canada by between $34.7 million and $138.8 million".
CNK spokesman Gordon MacDonald said:
"The emphasis of these brutal proposals is on telling people that they are costing too much to stay alive and would save the country substantial amounts by being put to death.
"To add insult to injury they do not even merit a face-to-face consultation with a doctor who will decide by Zoom or something similar that individuals should be given the go ahead for assisted suicide and then pop some deadly drugs in the post to enable them to do so.
"It beggars belief. How can a medic make a decision on the state of mind of an individual on a remote internet connection without being in the physical presence of that person to try and make a measured judgement?"
He added:
"These are utterly sinister revelations and show a callous indifference for the value of human life.
"We have warned for years about the dangers of assisted suicide legislation and these proposals really do let the cat out of the bag.
"The ordinary men and women of this country will be astounded by the stark and uncaring reality of such legislation."
A public consultation on the Scottish assisted suicide proposals is currently underway and will close in December.
If you live in Scotland, please take time to submit a response to this call for views. CARE has put together a short guide to help you respond.