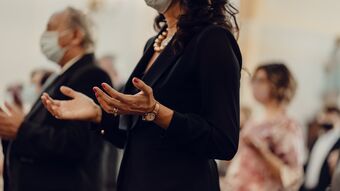 Prime Minister Boris Johnson has been urged not to impose controversial vaccine passports on churches in England.
Christian charity CARE, which represents evangelical churches across the UK, has written to the PM and described the idea as "antithetical to the very nature of the church".
The letter, sent on Friday, states:
"The imposition of vaccine certificates on churches would be most unwelcome and would represent a fundamental undermining of basic freedoms.
The idea that access to a church should require some special certification is antithetical to the very nature of the church as a place of refuge for the most vulnerable in our society.
Others have highlighted the prospect of a 'two-tiered system'. On the one hand, citizens who are vaccinated would be free to go about their lives. On the other, those who are not vaccinated would be barred from certain entitlements."
It cites a recent judicial review overturning the Scottish Government's decision to ban public worship in Scotland:
"The court held that this move was a disproportionate interference with the right to worship enshrined in Article 9 of the European Convention of Human Rights (ECHR). I put it to you that a decision to effectively ban non-vaccinated citizens from participating in public worship would also represent an unwarranted infringement of Article 9 rights."
Nola Leach, CEO of CARE, commented:
"Christians are understandably concerned at the prospect of a vaccine certificate system that would bar people who have not had the vaccine, for whatever reason, from attending church. As my letter to the Prime Minister states, this runs contrary to the ethos and the mission of the church, to welcome people from every corner of society to hear the Gospel of Jesus Christ.
"It also makes little sense practically when churches are already abiding by regulations and taking care not to expose visitors to unnecessary risks. I urge the Prime Minister to think about this in the coming weeks, as I know he will be, and provide an assurance to the Christian community in England that the government will not go down this path."
ENDS
Notes to editors:
For interview requests or more information please contact Jamie Gillies: jamie.gillies@care.org.uk // 07384467819
CARE is a well-established mainstream Christian charity providing resources and helping to bring Christian insight and experience to matters of public policy and practical caring initiatives. CARE is represented in the UK Parliaments and Assemblies.  
For reference:
CARE letter to the PM, Friday 9 April 2021
Letter-to-Boris-Johnson_Covid-Vaccines-April-2021.pdf (care.org.uk)
Vaccine Minister Nadhim Zahawi refuses to rule out vaccine certificates for churches
Exclusive: Over-70s to get booster Covid vaccines from September (telegraph.co.uk)
CARE letter to PM, November 2020
CARE Challenges Govt Over England Church Closures | CARE
CARE letter to PM, May 2020
Read Nola's Letter to the Prime Minister about the re-opening of Churches | CARE
Judicial review on Scottish church closures
Covid in Scotland: Places of worship can open now after court win - BBC News