BREAKING: NI Abortion Bill passed by MLAs and now moves to Committee Stage
Abortion
15 March 2021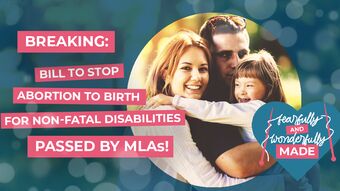 Tonight, MLAs voted 48-12 in favour of the Severe Fetal Impairment Abortion (Amendment) Bill at Second Stage which means it can now move to Committee Stage. There were 27 abstentions.
The result comes following weeks of campaigning by CARE NI and many other groups across Northern Ireland.
If the Bill becomes law, it will stop abortion to birth for non-fatal disabilities like Down's syndrome, cleft lip or club foot.
CARE NI's Policy Officer, Rebecca Stevenson, hailed the result:
"Tonight, MLAs have voted to end a form of disability discrimination", she said.
"They have voted to send a message to those with Down's syndrome and other disabilities in our communities that their lives are not worth less than those without disability.
"Sadly, there is still too much stigma in society attached to those who live with disabilities and MLAs tonight have taken a step towards helping change attitudes."
She continued "it's an extremely positive result and means the Bill can now move forward to Committee Stage and we would urge MLAs to continue backing this Bill as it moves through the next Stages."

What hap­pens next?
The Bill will now be given further consideration by the Health Committee before returning to the Assembly for further votes at a later stage.