More than 70% of pro-life students feel unable to share their views in lectures or seminars
Abortion
12 February 2021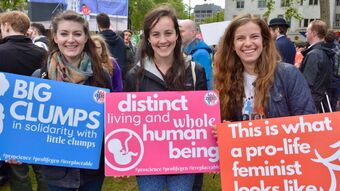 A disturbing new poll from the Alliance of Pro-Life Students (APS) shows more than 70% of pro-life students have faced situations in lectures or seminars where they are unable to share their pro-life views.
Nearly a quarter of those polled have been threatened, abused, alarmed or distressed by another student or academic because they belong to a pro-life society.
Meanwhile one in three have seen events cancelled due to 'de-platforming' of speakers with a pro-life viewpoint and 65% have witnessed another student being discriminated against for holding pro-life views.
The results have been submitted to the Parliamentary Joint Committee on Human Rights who are conducting an inquiry on freedom of expression.

Pro-life stu­dent groups under pressure
According to APS, the results of this new poll echo trends already seen at universities across the UK, where there's been attempts to stop pro-life groups from taking part in campus life.
Pro-life groups in Birmingham, Nottingham, Glasgow, Aberdeen and Strathclyde have struggled to be officially recognised as student societies.
Responding to the new survey, Peri Dalkic, President of the Aberdeen Life Ethics Society said her group had faced online abuse.
Miss Page continued: