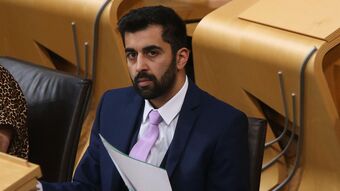 The Scottish Government is keeping an open mind about further changes to its highly controversial hate crime bill, the Justice Secretary Humza Yousaf has said.
The legislation has yet to come before MSPs for wider debate and scrutiny and the Justice Committee has been taking oral evidence ahead of its Stage 1 Report.
The bill aims to simplify existing hate crime laws but has sparked a major backlash from campaign groups, faith leaders, people in the arts, lawyers to name just a few.
CARE submitted a detailed submission to the Justice Committee on the bill outlining what we see as the major issues with the proposed law.
Stir­ring Up Hatred
One of the most damaging parts of the bill are the parts to do with 'stirring up hatred'.
Such an offence already exists, but the hate crime bill will extend it to include sexual orientation, religion, age, disability and trans identity.
Changes Prom­ised
Back in September, under serious pressure from groups and campaigners, Mr Yousaf said he'd amend the bill so it only applied to people who intended to stir up hatred.
Last week, further changes were announced with the government set to remove a section to do with offences committed during a public performance or play.
New protections will also be added to strengthen religious expression protections.
CARE's Response
It's good that the Cabinet Secretary is open minded to further changes because they are badly needed. The bill continues to be a real threat to free speech. MSPs must significantly strengthen free speech protections to ensure people will not be criminalised simply for holding 'unpopular views'. From a Christian perspective, freedom to articulate God's design for human flourishing is at stake.
Pro­tect Free Speech In Scotland