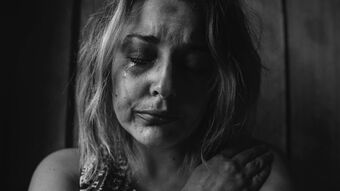 Over recent week, CARE has been working with Peers and MPs on amendments to the Immigration and Social Security Bill. We have concerns about the impact of the bill on confirmed victims from European countries.
The aim of the bill is to bring free movement of people from EU countries to an end as the UK leaves the EU on 1 January 2021.
When the Bill was debated in the House of Lords, Lord McColl's tabled an amendment which was supported by 312-211 votes.
His modest amendment aimed to address an issue with the legislation which meant it would leave confirmed victims of human trafficking from European countries with less options and support post-Brexit, than they currently have access to.
CARE was able to support Lord McColl in his vital work on this issue and it's to his credit that he continues to advocate for victims of human trafficking with such tenacity and dedication.
Following the success of Lord McColl's amendment in the Lords, the bill went back to the Commons so MPs could consider the successful amendments (this stage is called 'Ping-Pong'). Prior to the debate, CARE joined with other organisations to call on MPs to support the amendment.
Sadly, the amendment was withdrawn and did not go to a vote. Below you'll find a summary of some moments in the debate.
Gov­ern­ment opposed all Lords' amendments
The Government said right from the start that it was opposing all the successful Lords amendments. However, in his opening comments, the Minister did offer a small concession to Lord McColl and other supportive MPs.
This new clause in the bill was the result of Lord McColl's modest amendment in the House of Lords, which passed by 312-211.
Small Com­prom­ise Agreed To Help Victims
In his opening statement, Kevin Foster, Parliamentary Under-Secretary for the Home Department admitted that there was a problem with the bill and its consequences for certain confirmed modern slavery victims.
As such, he said new guidance would be issued to help bring some clarity in terms of long-term support for confirmed victims from European countries.
In response, Iain Duncan Smith MP, co-sponsor of the Modern Slavery (Victim Support) Bill thanked the Government for their willingness to take some action.
But he also called for further meetings with Ministers and suggested new legislation was needed to deal with wider issues identified by the Immigration Bill.

His conclusion was especially powerful and gets to the heart of why CARE is involved with advocating for victims of human trafficking.

Import­ance of Secur­ing Prosecutions
Following on from IDS, former Home Office Minister Karen Bradley MP revealed new information from ECPAT showed that just 28 children who were confirmed victims of trafficking were granted discretionary leave to remain in the UK between 2016-2019.
She went on to make clear the vital connection between looking after victims properly and securing more prosecutions, so those guilty of this crime are brought to justice.
She finished by urging the Government to get on and implement all the measures in the Modern Slavery Act that have not yet been introduced.
North­ern Ire­land led the way
A further powerful speech came from Yvette Cooper who expressed her disappointment that the Government was rejecting all the Lord's amendments.
Her final line is worth watching. She rightly draws attention to the need for long-term support for human trafficking victims and says it's possible to have quality support for victims and a new immigration system.