Top England Rugby Player: Young people should get married rather than living together
Marriage and Family
17 August 2020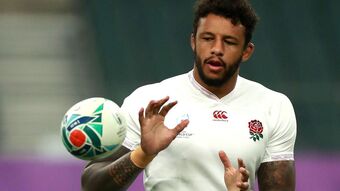 Young people should get married rather than just cohabiting together, a star of Rugby Union has said.
Courtney Lawes, who plays for Northampton Saints and has represented England at U 18, U 20 and senior level, (he's also a British Lion) caused a Twitter storm recently when he tweeted that maybe young people should get married before having children.
In an article for the Telegraph, Mr Lawes said that a 'stable and loving family' helps protect against 'the most anxious moments'.
A stable family means one where the parents are both married because, as a recent paper by the Centre for Social Justice explains, there is a big difference between cohabiting and marriage.

Cohabiting couples are four times more likely to split up and 70 per cent of young offenders come from families where parents have separated.
Meanwhile, for children whose parents are married, they are less likely to be excluded from school and less likely to join a gang, become addicted to drugs or alcohol and less likely to go to jail.
Mr Lawes went on to say that today, 'young people seem reluctant to marry' and 'unmarried parents have doubtless inspired a generation who do not know what marriage means'.
Alongside the fear of a divorce, there's the slide into cohabitation out of 'convenience' or for 'financial reasons'. But what young people should consider is the strategy that has been shown to deliver the best outcomes and that means marriage.
CARE's Response
It's brilliant to see a Rugby Union star coming out publicly and talking about the benefits of marriage. Sadly, for many years politicians have been too afraid to do this. The moment you talk about how positive marriage is, you're accused of ignoring single parents and the unmarried. But what we cannot do is ignore the evidence. Marriage is good for couples. It's good for children. In fact, it significantly improves a child's life chances. Given this is so, the Government should 'level up' marriage by providing incentives to open it up as an option for more people. If you care about social justice, you should care about marriage.