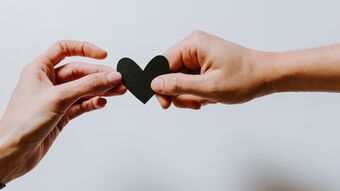 Last night, the Committee Stage of the Government's 'no-fault' divorce Bill took place in the House of Lords.
The Divorce, Dissolution and Separation Bill will see a radical overhaul of divorce law in Britain.
It will change the current system, where a petitioner for divorce must prove fault, and replace it with a notification system. This would mean that one spouse would be able to unilaterally end their marriage whenever they wanted by notifying the court and, after a short period of time, receive the final divorce decree.
This amounts to 'no reason' divorce and will make Britain's divorce process the 'fastest divorce law in the world'.
Peers speak out
Several amendments to the Bill were debated, including consideration of what is in the best interests of children, and how the Government should provide better marriage support
On the question of whether a marriage can be saved once a couple reaches the point of divorce, the Government were highly negative, arguing that any attempts to deliver better access to mediation would only delay divorce further.
Other Peers spoke out more positively that it is possible to save a marriage at the point of divorce, and there needs to be better mediation, counselling and relationship support for couples – particularly earlier on in their marriage.
Baroness Benjamin made an excellent speech about the impact divorce has on children:
"In all our debates on the Bill we must not forget children. They are innocent parties in family break-ups, and everything we decide in this House, or in the other place, must not neglect their interests. So much of our family policy is built on the principle of what is in the best interests of the child. But when it comes to divorce, which can be devastating for children, the focus is too often solely on the interests of adults…
Supporters of the Bill claim that children of married parents who argue will be better off if their parents can divorce more easily, without having to allege fault. The logic is that parents continuing their marriage is more damaging to children than simply ending the relationship. The truth is that children need not be involved in any consideration of fault, but they are necessarily involved in the fact of divorce. It is the fact of divorce, not the process, that is harmful to children.
…I fear that this Bill will make divorce quicker and easier, leaving less time and motivation to compromise or attempt to reconcile—and children will suffer."
Lord Morrow highlighted the impact of financial pressures on family breakdown, and that more should be done to provide relationship support for couples in lower income families:
"By the age of five, almost half of children in low-income households have seen their families break apart, compared to only 16% of children in higher-income households. Funding for counselling services could make all the difference to families who struggle to get by financially—families like Laura's, on a household income of £16,000 per year, who told Relate:
"I want my husband and I to stay together because I know we truly love each other, as well as for the sake of the family, but desperate situations push people towards desperate measures, such as contemplating divorce. I am trying to stay strong for my family by blocking things out emotionally, which I know isn't healthy but I have nowhere to turn. What we need is to speak to somebody objective who can help us to find a way forward. I agree there should be more funding for relationship support—healthy relationships create healthy families which in turn creates healthy citizens."
Where the Government are proposing to reduce the time for divorce and thus reduce the opportunity for reconciliation within divorce, it is especially vital that they now adopt a new approach to marriage support. Providing funding to parents in conflict, who do not have to be married, is no substitute for marriage support, which should not be limited to those who have children. We need a significant, serious focus on marriage support."
Baroness Tyler criticised the Bill for being silent on the issue of relationship support, describing it as a social justice issue:
"the Bill is silent on the provision of relationship support, which in my view needs to be available much earlier in the process of relationship breakdown, as well as at the later stages, which we are very much focusing on today…
Having properly functioning families with good relationships within them and trying to minimise relationship and family breakdown whenever we can is so fundamental to so many of the Government's broader social policy objectives, be they in education, health or employment. It really deserves to be taken a lot more seriously than it sometimes feels that it is. It is clear that early intervention to support relationships—again, the subject of our debate last week—increases the chances for relationship difficulties at the early stages to be repaired. We therefore need to make sure that those chances to seek support are provided when a relationship begins to deteriorate, as well as in the period after an application for divorce is made, when the focus is likely to be on helping the couples to reduce conflict and on ways in which they can continue to successfully co-parent but live apart. Those things can have long-lasting benefits for children, particularly for their emotional well-being."
Commenting, CARE's Family Policy Officer Jonathan Williams said:
"It is encouraging to see that Peers have used the Committee stage debate to challenge the Government on the detail of their Divorce Bill.
There are a number of areas of concern with this Bill, both in the principles behind the proposals as well as the detail of how this law has been written.
It is worrying that the Government does not seem to be prioritising saving saveable marriages, through funding marriage support and counselling, and encouraging efforts at reconciliation.
Of particular concern is the inequality of the 20-week reflection period between the petitioner and the respondent. Under the Government's proposals this period will be felt very differently by the two parties and could become a main source of conflict and animosity in the divorce process.
We hope that the Government takes time to reflect on the proposed amendments debated yesterday and is willing to change the Bill at report stage."
In this article, Jonathan explains in more detail some of the concerns we have about the Government's proposals