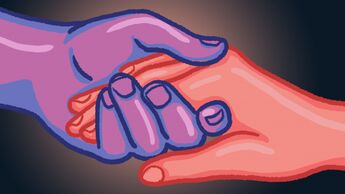 Today, October 22, the law on abortion shifts dramatically in Northern Ireland. Like you, we are heartbroken by this news.
Thousands of people have spoken out against this law change. From across the political and religious divide, people have marched, lobbied, rallied, fasted and prayed – hoping and longing for this law not to be introduced. Yet the NI Executive was not restored in time, and so this devastating law will be the new reality.
As of this morning, a preborn baby in Northern Ireland has lost all legal protection in the law up to the point it can be born alive. Its right to be recognised as a person, to the full dignity afforded to every other individual, has been brutally stripped away.
Now, women across Northern Ireland have no protection from forced abortion – an offence which only existed under the Act the Westminster Parliament have so hastily repealed. There will be no limitations on where abortions can take place, no requirements for abortion providers to be inspected and no notification requirements for at least the next five months. Women's safety hangs in the balance, and until Regulations are brought in, there will be nothing stopping backstreet abortions from taking place.
It is right to lament and grieve such a painful reality – for the precious lives that will be lost, for the pain many women will endure, and for the way our society has forsaken the value of human beings.
Yet, in response to such pain, we can also continue to stand. For we serve a God who always saves: "Is my hand shortened, that it cannot redeem? Or have I no power to deliver?"
How can we respond?
Northern Ireland is, as of today, greatly impoverished in the way it deals with women in crisis pregnancies and babies under the law. But that does not mean that our action need be impoverished.
When faced with such a future, we must do all that we can to meet needs and to fill gaping chasms left by this law change. If the rest of the UK is anything to go by, there won't be support for women in crisis pregnancies – there will only be support for abortion.
This is where the church must play its part.
The price of freedom
All of these changes have been forced on Northern Ireland because of a lie – a lie that says that the ultimate human value is to be free to choose, and that choice itself is more important than whether that choice is right or wrong, or whether it leads to suffering or joy.
Culture tells us that this freedom for us women can only be purchased by the right to terminate our pregnancies – to end the life of that living inside us.
Yet, I am still to see a woman who is truly free after an abortion.
Women in crisis pregnancies can often feel unsupported and alone. They need to be able to speak about their thoughts and feelings more than ever, in a place free of judgement.
Many women want to keep their babies and feel a huge degree of ambivalence before reaching their decision. This is why obtaining a termination can be so very painful and can result in mental health difficulties. And it is why it's essential that they are able to talk to someone about it, whether before or after a termination.
What kind of society lets women make life-altering decisions out of fear? What kind of culture doesn't provide resources for a woman to be able to bring a baby into the world? We must do better, and if our politicians and institutions won't help us, then we must do what we can with the resources we have.
Where can they go?
This is why crisis pregnancy centres could be the church's answer to this problem. They are often one of the only places that women can turn to for impartial counselling and support.
CARE has always supported pregnancy centres and has never wanted to abandon women in their time of need.
Rather than respond in anger and retaliation, the church must provide an alternative. This is why we are calling for the church to support the development of more centres throughout Northern Ireland.
Currently Northern Ireland doesn't have places women can turn to. It's time we changed that.
When women are able to talk through their fears, they often find that what is on their heart is that they want to keep their baby. They see a way through the noise in their head telling them it's impossible and they can't do it. No one can convince them of this: they have to decide this for themselves.
These centres can also meet very practical needs. Many churches have opened foodbanks throughout the UK, why not pregnancy centres? There are existing pregnancy centres providing everything from benefits advice and companionship, to accommodation, toys and prams. Some women who come in for post-abortion counselling say that they would not have had an abortion if they had known that their practical needs could have been met in this way.
Opening our doors
It seems like an unsurmountable task but, mercifully, we have the power of God to help us. God always intended his church to be salt and light in this world, and our mission is simple: love God, and love our neighbour.
Yet, in loving our neighbour, we have to own where we have failed women and babies in our communities.
We have failed women and babies, because we have judged and abandoned those who have fallen into crisis pregnancies. Pregnancy, birth and raising a child are undoubtedly some of the hardest things a woman will ever have to do. To do that alone is terrifying for many and, facing abandonment, abortion feels like the only option.
The church must not offer a closed door or a cold embrace to those who fall sexually, and to women hiding their abortions in our midst, but the unstoppable and uncompromising mercy and grace that was offered to us through Jesus. Jesus did not abandon us in our time of need, and nor should we to those who need us.
We have failed women and babies by our apathy and reluctance to speak against a culture that encourages those women to 'solve' their problems with abortion. We must speak out, so that abortion can be brought out of the shadows and into the light. It is here that anyone can find healing, and where the true humanity of babies can be witnessed. Silence is not compassionate: pain must be shared.
God's answer for the world
The church has always been God's answer for the world. Whilst we grieve for the women and babies whose lives will be forever changed by this law, we must rally for those who are vulnerable.
Let's open our doors to women and men who need help. Let's open centres that offer support to those who see no other way. Let's provide practical help and friendship to the women left on their own. Let's speak out for the voiceless, never backing down for the women and babies who need us.
Our Lord is close to the broken-hearted and saves those who are crushed in spirit. He knows the pain of abortion more than anyone, and the heart of our Father is grieved when he looks upon the devastation it has caused. He is the answer to this dark world, because darkness is as light to him.
The Lord asks of us all: "Who will go for us? Whom shall I send?
Will we respond, as Isaiah did,
"Here am I Lord. Send me."
Get in touch
If you want to get started, we've been having discussions with the Pregnancy Centre Network and are looking for Christian women with a heart to care for vulnerable women who find themselves in a crisis pregnancy. We want to train and equip these women, for free, to stand in the gap. If that is you, or anyone you know, please email Hannah Arnold, our CARE NI consultant.