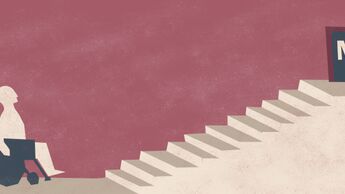 As of 22 October, unless the Northern Ireland Assembly reforms, the lives of preborn disabled people hang in the balance.
Previously in Northern Ireland, abortion was available if a woman's life was at risk, or if there was a long-term, serious risk to her mental or physical health. It was not possible to obtain a termination if the purpose was specifically to end the life of the baby.
In this way, a baby's life was protected, and the value of its life was upheld along with its mother's – the law struck a delicate balance between two equally precious lives.
A radically different culture
Abortion has never been available in Northern Ireland specifically on the grounds of disability. It has never been possible to terminate the life of a baby because they are – as is put in the '67 Abortion Act – 'seriously handicapped'.
The rest of the UK sits under an utterly discriminatory regime. This should be no surprise: abortion has an historical association with eugenics.The founders of the organisation that is now known as Abortion Rights, who convinced Lord Steel to introduce the Bill that led to the Abortion Act 1967, were well-known eugenicists. As was Marie Stopes, founder of what is now the UK's largest abortion provider.
In England, Scotland and Wales, thousands of babies have been killed for their disability since 1967 under this eugenically influenced regime. The requirement for the disability to be 'serious' has been liberally interpreted and has included babies with very minor disabilities such as cleft palate or club foot. These babies can be terminated up to birth.
Northern Ireland, on the other hand, is a culture with a totally different attitude towards disabled people. One stark example of this is babies with Down's Syndrome. In England and Wales, the latest available figures show that 74% of unborn children identified in utero with this condition were aborted. In contrast, in Northern Ireland well over 90% of babies identified with Down's Syndrome are born. This is a major difference which the law and policy in operation in Northern Ireland has made.
Eradicating the lives of disabled people
If the Northern Ireland (Executive Formation) Act comes fully into force on 22 October, this protection for disabled people and the unique culture around disability in NI will be gone. Abortion will be available for any reason up to the point of viability, and potentially up to 28 weeks – this will include for disability.
During the passage of the Bill, Lord Shinkwin (a disability advocate who himself has brittle bone syndrome) described the effect this would have on disabled people in NI:
"What is proposed in the Bill drives a coach and horses through disability equality. I wonder whether my noble friend the Minister—indeed, whether anyone in the Government or in No. 10—has considered the message that changing the law to allow abortion on grounds of disability in Northern Ireland sends to the people of Northern Ireland, to the devoted parents and families of disabled children and, most importantly, to the disabled citizens of Northern Ireland. Today, Northern Ireland is the safest place in the United Kingdom to be diagnosed with a disability. If the Bill is passed, that will change overnight on 21 October."
He asked how the Minister could reconcile the Disability Discrimination Act's "acknowledgement of the right of disabled human beings to be equal, to contribute to society and to be respected" with the message of the Bill, which says that "if you are born with a disability, as I was, you are better off dead? For that is its message to disabled human beings, their families and the people of Northern Ireland."
A great irony
"I would like them to treat me as a normal person, with human rights." said Heidi Crowter recently in an interview, speaking as a woman in her early twenties with Down's Syndrome.
She highlights the huge irony in our culture: that for all our talk about 'equality' and championing the rights of the more vulnerable in our society, we continue to advocate for one of the most discriminatory measures imaginable by fighting for the right to terminate someone purely for their disability – and all in the name of equality.
Whether we like it or not, we need to be honest here: we don't support the equality of disabled people if we end their lives on the basis of their disability.
We are saying something fundamental about the nature of disability and the quality of the lives that disabled people live. We are saying fundamentally that their lives aren't worth living.
And, tragically, they hear that kind of abuse all the time. People with disabilities are commonly trolled online and told that they should've been aborted. Surely, we can't contend that there is no link between our abortion regime in the UK and cultural attitudes perceiving that disabled people should have been aborted?
Changing Culture
Terminating a baby for a disability is undoubtedly a tremendously difficult and often heart-breaking decision, and life as a parent of a child with disabilities will come with unique challenges. We must do all we can do support such families and come alongside them. Campaigns like Don't Screen Us Out are doing great work educating prospective parents and demonstrating the fulfilling lives that people with Down's Syndrome and their families can lead.
But, culturally, we must re-examine the way we perceive disability. We must not allow this discriminatory law to be introduced in NI. We must call on our legislators to put a stop to this practice across the UK.
People with disabilities want to be treated the same as everyone else.
And they are the same as everyone else. As Heidi Crowter put it, "I am fearfully and wonderfully made. That means that everyone is made in God's image and not just people without Down's Syndrome, people with Down's Syndrome too."