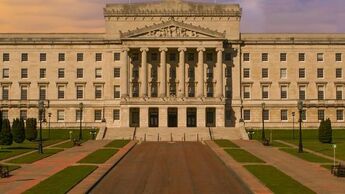 Unless the Northern Ireland Assembly is restored by 21 October 2019, an extreme abortion regime will be introduced in Northern Ireland, after MPs and Peers backed amendments which will introduce widespread access to abortion in NI.
There are less than 75 days until the 21 October deadline. Thousands of people across NI have already contacted their MLAs, MPs and party leaders. This week, DUP leader Arlene Foster said that the proposed liberalisation of abortion was 'not a done deal' and she was determined to see the Assembly back up and running.
How did it come to this?
Everything has changed so rapidly when it comes to abortion law in NI and it's entirely possible you might have missed it. Yet we are talking about a staggeringly big change, from a life-affirming law thanks to which 100,000 are alive today who otherwise would not be, to an abortion regime more extreme than most other countries in the world.
How on earth did this happen? And can we really hope to stop it? To answer these questions, we need to start by going back to January 2017, which is where things began to go seriously wrong.
The collapse of the Assembly
The Good Friday Agreement, also known as the Belfast Agreement was signed in 1998. It set up a power sharing arrangement between Unionists and Nationalists in NI to ensure the Assembly could function. Members of the NI Assembly, or MLAs, have responsibility for a wide range of devolved policy areas, including abortion.
It is worth remembering that devolution in NI allowed locally elected representatives to decide on key social issues like abortion. As recently as February 2016, MLA's voted on abortion law change and by a clear majority rejected the opportunity to introduce more widespread abortion.
But on 9 January 2017, the power sharing arrangement between the DUP and Sinn Fein collapsed, leaving NI without a functioning Assembly or Executive.
British Government is committed to a restored Assembly
The British Government said it was committed to seeing a restored Assembly. To achieve this end, the Northern Ireland Office (NIO) has acted as the mediator in ongoing negotiations between the different sides to see if a new deal could be reached.
In order to facilitate the negotiations, legislation was needed to define the time-period for negotiations. For example, in October 2018 the former Secretary of State for Northern Ireland, Karen Bradley, introduced the Northern Ireland (Formation and Exercise of Functions) Bill. This Bill was being fast-tracked through Parliament in order to facilitate restoration of a devolved administration in Northern Ireland and give power to civil servants in the absence of the Executive.
There were attempts to amend the Bill during its passage through Parliament, and one amendment was successful. This new clause imposed a duty on the Secretary of State for NI to report on the human rights 'incompatibility' for the people in NI in regard to abortion and same-sex marriage, despite the fact that no such declaration of incompatibility had been made by the Supreme Court. This amendment did not change the law, but it did add pressure and asserted in legislation that there was a problem with the current law on abortion in NI. The Bill received Royal Assent on 1 November 2018.
As the months slipped by, some MPs increased this pressure on Westminster to intervene. The British Government's initial response was to rightly resist this pressure. Right up until this year, the former Northern Ireland Secretary was insisting that abortion was a devolved issue and a matter for the NI Assembly. The former Prime Minister said the same. The new Prime Minister, Boris Johnson –when campaigning for the leadership of the Conservative Party – also said the issue was a devolved responsibility.
Despite months of negotiations, by the beginning of 2019 no progress had been made.
British Government introduces Northern Ireland (Executive Formation) Bill
In July 2019, the Government introduced the Northern Ireland (Executive Formation) Bill. It was a Government Bill and, again they chose to use the 'fast track procedure' to make sure the legislation went through both Houses as quickly as possible. This procedure has been criticised because it does not allow for sufficient scrutiny of legislation, such as a public consultation and consideration by pre-legislative committees.
The Bill had a definitive scope and a clear aim, which was to extend the period for negotiations for the return of the Assembly. That was all. It was not intended to accomplish anything beyond that purpose.
The Bill was hijacked by MPs determined to change NI's abortion law
Once the Bill had received its First Reading, amendments were tabled. This is perfectly normal and fairly standard, but in this instance there were amendments on same-sex marriage and abortion, which were matters well outside the scope of the Bill. There were also amendments on problem gambling and human trafficking, but the difference is that SSM and abortion are conscience issues and involve huge social change.
What was strange here was this: how could amendments on massive issues like abortion law possibly be deemed in scope of a Bill intended solely to extend the period for negotiations to try and restore devolution? In normal political times, such amendments would likely have been rejected. But we are not living in a period of history that could be described as 'normal'.
Amendments are picked by the Speaker of the House of Commons. Anyone assuming the amendments mentioned above would be deemed outside of scope does not know the current Speaker too well. In the end, they were selected for debate.
What then happened?
One amendment was key. It was tabled by Labour MP Stella Creasy. In its original form, it said the Government would have to implement the recommendations of a report by an un-elected UN sub-committee, called The Committee for the Elimination of Discrimination Against Women (CEDAW).
They had published a report in February 2018 which argued that abortion should be 'decriminalised' in all circumstances. This report has been routinely cited as if this is the seminal document proving that NI's abortion laws are an abuse of human rights. But an expert legal opinion makes it clear that the Convention doesn't even mention abortion, and that the Committee's recommendations are non-binding on the UK Government.
Despite these issues with the CEDAW report, in the end, MPs voted for the amendment by 333 to 99.
Did the Lords put an end to it?
The short answer is no. Any reasonable hope that Peers might recognise the problems with the Creasy amendment and reject it quickly proved unfounded. In fact, the situation was made considerably worse. When the NI Bill arrived in the Lords, the Government had realised that the Creasy amendment would not work. Rather than reject it because of how poorly drafted it was, the Government worked with some Peers to ensure amendments were tabled which would allow them to give effect to the vote in the Commons. Along the way, there were some powerful contributions from Peers defending the value of life.
A reworking of the Creasy abortion amendment was tabled by Baroness Barker, which explicitly repealed abortion legislation is s. 58 and 59 of the Offences Against the Persons Act (OAPA) 1861. These two clauses outlaw abortion and the provision of abortion. This amendment passed by 182-37.
Another amendment by Baroness Nuala O'Loan – and supported by more than 19,000 people – sought to ensure the Government gained approval from a majority of MLAs before passing the legislation. But sadly, this democratically-minded amendment was rejected when put to a vote.
The proposed changes went back one final time to the Commons where MPs voted through the Bill.
What will it mean for NI?
It is still very unclear exactly what sort of framework around abortion will be put in place in Northern Ireland. What must be stated is that it cannot be underestimated how ill-prepared NI is for this enormous social change. There is no professional guidance in place and no regulations to cover the provision of abortion services in the Province.
The Government said after the Bill was passed that they will hold a consultation running between 8-11 weeks with stakeholders in NI, including MLAs and medical professionals. According to the legislation, regulations must be put in place to regulate abortion services. These do not need to be in effect until 31 March 2020. So, there will be a 5-month limbo period between October 22 and March 31 where abortion could entirely deregulated up to potentially, 28 weeks. Babies have been born at 22 weeks and survived.
Here is the new reality in NI on abortion:
Abortion will potentially be legal up to 28 weeks (6 ½ months gestation)

Sex-selective abortion will be legal

Abortion on the grounds of disability will be legal

Abortion could happen for socio-economic reasons

There will be no legal clarity over the upper limit of abortion

There will be no notification requirements or inspection regimes for clinics regarding abortion provision
We are talking about one of the most extreme abortion regimes anywhere in the world. Anyone who has any respect for both women and babies can see that such a radical regime is not in the best interests of either. At CARE, committed as we are to the value of all human life, the changes represent the biggest threat to both mum and baby since the 1967 Abortion Act first passed into law.
What about the rest of the UK?
It is quite clear that if these changes happen, pressure will come to bear on the rest of the UK to follow NI. Diana Johnson MP (who tabled a Ten-Minute Rule Bill to change abortion law in NI only last October) asked a question in the Commons after the NI Bill was passed asking what plans the Government had to bring the rest of the UK into line with NI. Pro-abortion MPs have made no secret of their desire to use the Domestic Abuse Bill to achieve this purpose. Britain has a 24-week time limit on abortion. If the NI Assembly is not restored, the new NI limit could be as high as 28 weeks. The aim of these campaigners will be to bring parity with NI, necessitating law change in England and Wales. No doubt Scotland would also come under intense pressure to change its law there as well.
Can it be stopped?
Positively, yes! This can still be stopped. All the provisions of the NI (Executive Formation Bill) are contingent on the Assembly being restored. If that happens by 21 October 2019, the Bill will become defunct. It will then be up to the democratically elected representatives of Northern Ireland to decide on what abortion law to introduce.
If you live in NI, you can use this tool to quickly contact your MLAs, MP and the party leaders to urge them to put differences aside so a restored Assembly can fulfil the purpose for which it was created.
You can also see a list of some events taking place in September here.
At CARE, we will continue in our work to do everything we can to stop this devastating law becoming a reality. Please join us in praying for the NI Assembly to reform by the 21 October, and for the upcoming campaign to impose change on the rest of the UK to be defeated. Our God is able, and nothing and no one can take his place on the throne of our world.