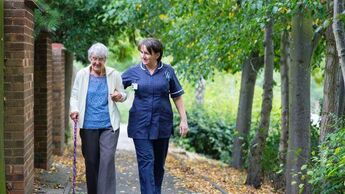 The Scottish Partnership for Palliative Care have recently published a new report, Every Story's Ending, which is a substantial and hugely informative new addition to the debate about how society cares for some of our most sick and vulnerable people. Subtitled 'Proposals to improve people's experiences of living with serious illness, dying and bereavement in Scotland", the report casts an expert eye over current end of life care in Scotland, and suggest a raft of possible improvements.
It begins, in the foreword by Chief Executive Mark Hazelwood, with a refreshingly honest take on the inevitable challenges of approaching death: "COVID-19 has highlighted an eternal truth; we are a community rooted in the shared experience of mortality. We are all vulnerable ultimately to the fears, uncertainties, suffering and losses that come with serious illness, dying and bereavement… at this most vulnerable stage of life people have a fundamental human right to the care and support they need." (p4) At a time when much political discourse is focussed on the alleged merits of legalising assisted suicide, it is heartening to see the debate being re-focused upon how those near to death can be actively cared for. As the authors state: "While 'dying well' is important, it is only part of what matters – emphasis should always be on optimising wellbeing for as long as someone remains alive, whether that turns out to be years, months or hours – a focus on living well, not on dying." (p52)

'

Polit­ic­al Football'
When debating assisted suicide, the quality of palliative care provision can all too easily become a political football, with those on either side of the debate seeking to use the quality (or lack of) palliative care to bolster their case. This report is so valuable on this matter precisely because it has been put together by those who actually understand what is happening on the ground. The broad conclusion, as perhaps is to be expected, is that while current care is good, it could be a lot better. As Hazelwood explains: "despite progress over the past decade, there remains a long way to go before Scotland can be sure of its ability to fulfil the rights of its citizens towards the end of life. It is eminently possible to make those rights a consistent reality. To fail to do so is a conscious choice which reflects poorly on a wealthy and technically accomplished society." (p4)
Where does leave us in terms of the ongoing debate on assisted suicide? The report only touches briefly on the subject directly however it is of interest that the authors insist on using the language of "assisted suicide" rather than the misleading term 'assisted dying' promoted by supporters. They also sternly warn that: "Deficient care towards the end of life should never form part of anyone's decision to shorten their life. Palliative care and end of life care must therefore be excellent" (p36)

Gold stand­ard care
This report is, at root, a plea for gold standard end of life care to become the norm in Scotland. Rather than be seduced by the hollow claims of compassion and autonomy made by proponents of assisted suicide, it must hoped that increasing numbers of MSPs will redirect their focus away from the early termination of life towards active steps to make end of life care as good as it can be. A good first step would to set aside an hour to digest Every Story's Ending.
While you're here…