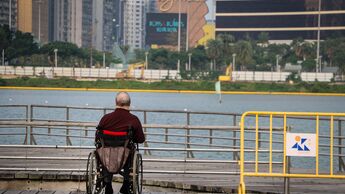 You can watch the Assisted Dying Debate on the Parliament website.
On Friday 22 October, Members of the House of Lords will once again consider the question of assisted suicide when Baroness Meacher's Assisted Dying Bill has its Second Reading debate.
It is my view, along with many doctors and especially palliative care doctors and other doctors familiar with patients nearing the end of life, that this legislation is profoundly flawed. Not only would it not work out well in practice – due in part to aspirational but ineffectual safeguards – but it would also endanger some of the most vulnerable in our communities. This reality would be bad enough had we not experienced a global pandemic. But with NHS waiting times at record highs and a huge backlog of treatments and appointments still to be addressed which will run on for many years yet, there could scarcely be a worse time at which to introduce such seismic change.
The push for assisted suicide is largely motivated by two concerns. The first is a desire for autonomy. This line of reasoning suggests that we should give patients the 'right' to end their own life, should they wish to do so. There are a determined group of people, although not especially large, who want to end their own life on their terms.
It is vital, however, that we weigh up what impact changing the law to accommodate this desire would have on other individuals and society in general. In all manner of situations, we accept as a society that individual rights cannot trump or be the determining factor in passing laws – particularly where to do so would have a harmful impact on other members of society, and especially when those people are otherwise vulnerable. Yet any law introducing assisted suicide will have profound implications for those who are elderly, who are disabled, who are frail or infirm, who are at risk of exploitation, abuse or coercion.
The evidence from other nations where the law has changed, such as Canada, Belgium, the Netherlands and States like Oregon and Washington, highlights worrying instances of such abuses. So-called safeguards and mechanisms designed to prevent harms have failed and soon been swept aside, in order that eligibility be extended to more and more people in society. The stakes are simply to high to ignore the risk to those who are most vulnerable in our own society – in fact they are potentially lethal.
Secondly, proponents make much of the idea that assisted suicide is compassionate. How can it be fair or just to allow people to suffer in extreme ways at the end of their lives?
Again, this is a powerful argument. But when you listen to those on the frontline caring for people at the end of their lives, you quickly learn that cases of unbearable suffering occur primarily because of an unacceptable lack of resources for high quality palliative care. A tragically low number of people die in the UK with high quality palliative care being provided round the clock. This is the real scandal of end-of-life care, and it needs to be taken far more seriously.
The trouble is, there's some evidence suggesting that when you legalise assisted suicide, investment in palliative care declines, presumably because people see less need for it. Can we afford to take this radical step when it may make worse the already challenging landscape of palliative care provision. In my view, no.
All lawmakers have a duty to consider public safety. The question is, would this new Assisted Dying Bill make our society more, or less safe? My view and it is shared by many others is that the proposed legislation would be detrimental to public safety and must therefore reasonably be opposed.
Legislation also sends a message. This Bill sends a message to some citizens that suicide is the best option, or that their life has less value than someone else's. This is not remotely compassionate and flies in the face of the legacy of true healthcare. As the founder of the modern hospice movement, Dame Cicely Saunders, is quoted to have said: "Palliative care providers usually recognize that most people are not afraid of dying as they are of being abandoned. The worst thing we can do is abandon someone who is hurting. Attitudes which promote death rather than affirm life are the ultimate abandonment." Tragically, this is precisely what the Assisted Dying Bill does.
There's nothing progressive about assisted suicide. Quite the opposite. I urge Peers to speak against this Bill. If a vote takes place, they should reject it. Instead of opening this Pandora's Box, with all the unknown consequences, let's secure the investment that's needed to improve access to care for everyone who needs it.
This piece was first published by Politics Home on 15 October 2021