Kirk Moderator and former Lib Dem leader warns against assisted suicide
Assisted Suicide
24 September 2021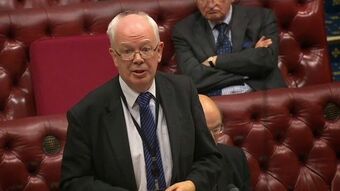 Lord Wallace of Tankerness, the Moderator of the Church of Scotland and a former leader of the Scottish Liberal Democrats, has voiced his opposition to assisted suicide plans brought forward a Lib Dem MSP.
In a statement released yesterday, Lord Wallace said the Kirk would oppose any move to amend current provisions, warning that assisted suicide places the vulnerable at risk.
"The General Assembly has consistently and repeatedly expressed support for the status quo with regards to the law which prohibits assisted dying in all its forms," he said.
"The current societal protection of life is clear and to move away from this would involve more than a simple modification of the law and would represent a crossing of the Rubicon from which there would be no return.
"This would have profound effects on how society regards those in our communities who are vulnerable, not just the elderly and infirm but also those with disabilities and those who are unable to speak up to protect themselves.
"Our position is rooted in our Christian faith and whilst we recognise that this is a debate which is not entered upon lightly by those sincerely promoting change, we remain opposed to any proposals to amend the law around assisted dying in all its forms."
Jim Wallace served as Deputy First Minister of Scotland between 1999 and 2005, and as a Liberal Democrat MSP for Orkney. The MSP responsible for the assisted suicide bill in Scotland, Liam McArthur, now holds the Orkney seat and was mentored by Lord Wallace in the past.
A statement on Mr McArthur's website reveals states:
"After graduating, Liam headed to London to take on the role of researcher in the House of Commons for then Orkney & Shetland MP, Jim Wallace. A friendship which would later play a key role in Liam's decision to return to Orkney."
CARE has spoken out strongly against the assisted suicide proposals at both Westminster and Holyrood. Yesterday, commenting on the Scottish bill, CARE Parliamentary Officer Michael Veitch said:
"It is dispiriting that we are again debating legislation on this matter in Scotland when parliamentarians so roundly rejected similar proposals in the past.
"They didn't do this on a whim, or because they lacked compassion. They did so because of the overwhelming evidence that assisted suicide is a harmful and regressive practice, that threatens to undermine the safety and the value of vulnerable and marginalised groups.
"We appeal to MSPs in every party to reject this third attempt to introduce assisted suicide and focus on truly compassionate policies that help patients at the end of life."