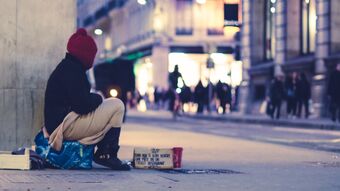 Insufficient support from the UK Government is leaving modern slavery victims facing homelessness and re-exploitation, a recent report has found.
No way out and no way home, a research project led by homelessness charity Crisis, is the first research that has looked specifically into the link between homelessness and modern slavery.
The researchers found that there is clear evidence that the two drive one another. Many survivors were mostly living in informal living arrangements like rough sleeping or sofa surfing when they were first recruited into modern slavery.
Moreover, nearly two thirds of those already trapped in slavery were living in accomodation linked to their abusers, and were then made homeless when the exploitation stopped.

This shows how much more needs to be done to help those living in vulnerable and dangerous circumstances, where they are forced into (or back into) slavery.

Vic­tims not being referred for support
The report also found that less than half of modern slavery victims in England, Wales and Northern Ireland are being referred to the National Referral Mechanism, the UK Government's scheme for supporting victims.
This is leaving victims without access to legal aid and safe accommodation, meaning many are forced back into slavery.
Amongst those who were referred to the NRM, only 17 per cent were in secure permanent accommodation and a fifth were still homeless.
Sup­port Lord McColl's Bill
This report yet again demonstrates that many survivors of modern slavery are currently left to fend for themselves and are at risk of further exploitation.
CARE recommends that victims should receive greater assistance and support in accessing safe accommodation, welfare benefits, healthcare, counselling and work at the end of the initial recovery period.
We have been calling on the Government for several years to support Lord McColl's Modern Slavery (Victim Support) Bill, which guarantees victims at least 12 months of holistic support, which includes permanent accommodation.
We are joined by a coalition of anti-trafficking organisations, as part of Free for Good, who are urging the Government to do the same.