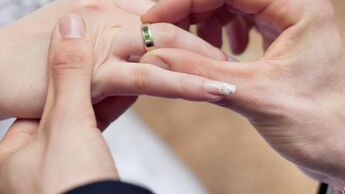 The clickbait headline has drawn you in, Christian. Good. But it's not what you think. Christian ministers across the UK do, of course, back marriage. The joining of men and women in holy matrimony is a commandment of scripture and a fundamental aspect of church life. However, the respect we hold for marriage doesn't seem to be shared by Ministers in the Houses of Parliament.
This week is National Marriage Week, an annual event where marriage is celebrated and its benefits for individuals, children and society at large propounded. The Marriage Foundation promotes the event each year with a different theme. This year, the focus is on lessons couples have learned during national lockdowns and how relationships have been strengthened during this trying time.
On Tuesday 20 April, the UK Government was asked if it would recognise marriage week and "the role of marriage in the development of policy". Sadly, the government's answer was lacking: "there are no plans to recognise National Marriage Week. We recognise the role that marriage can play as the basis for family life… The family test helps ensure that policy decisions take into consideration impacts on family relationships and functioning, including for people who are married".
Tory Peer Baroness Eaton pointed out that it has been ten years since a Minister last recognised National Marriage Week: "There are many Members who regret this and would welcome some recognition of the stability found in marriage and the benefit that stability brings to children. Government as a whole is clearly not reluctant to recognise and celebrate many sorts of days, weeks and months, but, as I say, it is 10 years since some positive recognition of marriage came from a Minister."
The Minister responded: "My Lords, we recognise the role that marriage can play as the basis of family life for those couples who want their relationship to be recognised through this lasting commitment. But families come in all shapes and sizes, and we want to ensure that any type of family can provide a nurturing environment for children so that they can succeed and lead happy, fulfilling lives."
It's hard not to be discouraged by this exchange. As Baroness Eaton pointed out, many causes, events and institutions are celebrated in the Houses of Parliament. So why not marriage? Marriage is the key to loving and stable family life. It provides the best start for children. And it is shown to be the most fulfilling relational commitment. It's massively important to society as a whole and family breakdown, the dissolution of marriage, has negative and far-reaching effects.
As with many things these days, the reluctance of policymakers to celebrate marriage is down to not wishing to offend those who do not support it – whether it's those who see marriage as 'oppression' and 'patriarchy' or those who simply think it is outdated. It is important to be sensitive to others, of course. However, the extent of censoriousness these days on behalf of offence-takers is frightening, and it often seems to be Christian priorities that are dropped or overlooked.
It's a real shame that political Ministers are so reluctant to back marriage. Christian Ministers – and the church as a whole – must demonstrate why this is a mistake. We must loudly proclaim the blessings of marriage, to all people. And we can pray that in the years ahead, politicians will catch on.