CARE for Scotland: vulnerable people most at risk from assisted suicide
Assisted Suicide
4 May 2021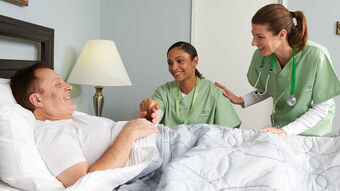 CARE for Scotland's parliamentary officer, Michael Veitch, has written for The Courier, arguing that investing in palliative care is a 'better alternative' than introducing assisted suicide.
Here is Michael's letter as published by The Courier.
Terminally ill need society's protection
Sir, – It was refreshing to read the compassionate and wise remarks of Pamala McDougall (Courier, April 29) on the subject of assisted dying.
Citing her lifetime of service as a nurse, it was deeply reassuring to hear of her commitment to "assisted living, not assisted dying".
With a Bill to introduce assisted suicide being widely expected after the forthcoming Scottish Parliament elections, it is important to make the case for more investment in palliative care services, as a far better alternative.
While supporters of assisted suicide may argue for maximum personal autonomy over the circumstances of our death, the reality is that like all vulnerable groups in society, the terminally and seriously ill are those most in need of our protection.
Giving them the option of ending their lives, with the inevitable pressures that would bring, is not something we as a society should support.
Michael Veitch,
CARE for Scotland.