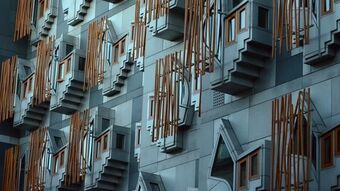 The Scottish Government's controversial new hate crime laws have been heavily criticised by a former Deputy Leader of the Scottish National Party (SNP).
Jim Sillars is a member of the SNP and was deputy leader from September 1991 until September 1992. He's a prominent figure in the campaign for an independent Scotland.
Writing for the Spectator, Mr Sillars warns that the hate crime and public order bill would 'divorce' Scotland from the 'heritage' of people like Robert Burns and Adam Smith.
These historical figures gave Scotland a heritage where people were unafraid to and willing to 'discuss, probe, dispute ideas and thoughts in the liberating realm of fearless free speech.'

Scots locked in a ​
'

woke chamber'

Instead, Scots are 'locked in a woke chamber: virtue signalling, pandering to perceived victimhood, punishing any for asserting biological fact, placing a halter of criminality on free thought when articulated by speech, abandoning common sense.'

The real problem with the new bill is that the state is trying to limit speech to what it deems acceptable, thus undermining freedom of thought and expression.

According to Mr Sillars, the new hate crime laws
Scot­land's new blas­phemy laws
In a final, devastating critique, Sillars finishes by saying that while Ministers 'boast of repealing old blasphemy laws', they're in fact 'blind to creating new heresies for a new blasphemy law, much wider in its weep and more injurious to free thinking and free speech than the old one.'
Back­ground

The Scottish Government has introduced a new hate crime and public order bill. It aims to repeal old blasphemy laws in Scotland and create new hate crime offences.
It also expands the list of protected characteristics and Ministers will, by regulation, be able to expand it further should they wish to do so.
The legislation has already been heavily criticised. Tory MSP Murdo Fraser, for example, has warned that the new legislation is an assault on free speech and that MSPs will want to carefully scrutinise the new laws.
CARE's view
CARE believes strongly in freedom of expression. While there are some welcome elements to the Bill, regarding free speech, it relies on hard to define terms. This will create chaos and confusion and likely undermine free speech. While curbing prejudice of any kind is right, hate crime laws run the risk of creating a new thought police, under whom Christians, for example, would find themselves criminalised for holding orthodox views on matters like sexuality.