Students Setting Up Free Speech Societies as Concerns About University Censorship Grows
Religious Liberty
3 December 2019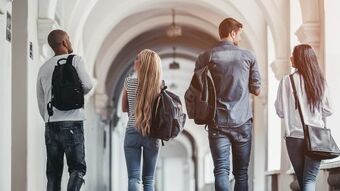 Students are setting up free speech societies amidst a developing backlash against censorship on university campuses.
The University of Buckingham is the latest to set up such a group and it comes after the journalist Peter Hitchens was 'no-platformed' at the University of Portsmouth in February.
The new group now has 100 members and five other Russell Group universities have followed suit.
James Oliver, who set up the society at Buckingham university said: "We were delighted when the society was approved by Buckingham students' union with no hostility. Students' unions elsewhere have behaved appallingly in many cases. We wanted to create a community in which anybody could feel comfortable sharing and hearing different ideas – however controversial."
At Bristol University, a free speech society was set up 18 months ago over concerns about various motions passed by the Students' Union.
Free speech in universities
The growth of free speech societies is obviously a response to increased censorship on campuses, with universities cancelling events and speakers amidst protests.
Back in March 2018, the Joint Committee on Human Rights published a report detailing how free speech was being curtailed at universities.
The report mentions noplatforming and safe spaces as examples of limits on free speech. At the time, CARE responded to the Committee's call for evidence. You can read our submission here.
It was confirmation of a developing concern that our universities, which should be places where ideas and free thinking are encouraged, were increasingly becoming places where genuine debate is being supressed.
At CARE, we are especially concerned about pro-life views being silenced at universities, or orthodox Christian beliefs also being marginalised. You can read examples of pro-life groups being silenced here.
The subsequent rise of free speech societies in our universities is a welcome move to try and encourage and facilitate genuine discussion and debate.
Universities must not become mindless echo chambers where only one ideology dominates at the expense of different worldviews.