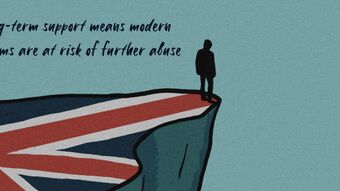 The number of recorded crimes committed under the Modern Slavery Act nearly doubled last year, according to new figures from the Metropolitan Police.
In total, the Met recorded 1,284 crimes, which is a rise of 82 per cent on 2017.
This significant increase follows a similar rise reported by the National Crime Agency (NCA) in March this year which showed almost 7,000 potential slavery victims were reported in 2018 – up 80% over two years.
According to The Times, Scotland Yard has said the rise was "driven by a combination of factors including a rising awareness that people previously as leading criminal lifestyles were actually victims of slavery".
One key factor in all this is the issue of county lines which is a term used when drug gangs from big cities get involved in smaller towns, often driving out local dealers and exploiting children and vulnerable people to sell drugs.
A recent report from the Salvation Army found that record numbers of Britons are being rescued from modern slavery as 'county lines' drug gangs take advantage of them.
In total, the number of British nationals referred to the Salvation Army as modern slaves has grown from just four in 2011-12, to 136 in 2018-19.
Find out more
CARE has been working on the issue of human trafficking and modern slavery for more than a decade. To find out more about our work, click here.
In this short podcast, we explain a little bit more about human trafficking and the forms it can take here in the UK and around the globe.