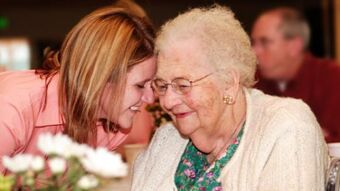 End-of-life care is a postcode lottery which means too many people are missing out on quality support at the end of their lives, experts will warn this week.
While the UK is a world leader in palliative care delivery, there is growing alarm at the lack of access to palliative care.
Access to Palliative Care Bill
On Friday, Peers will debate Baroness Ilora Finlay's Access to Palliative Care Bill at second reading.
Her Bill will require clinical commissioning groups across England to guarantee that specialist palliative care services are available to everyone who needs it.
Palliative care aims to provide specialist and high-quality end of life care for patients with terminal illnesses and those who do not have long to live, by managing their pain and providing for their psychological, spiritual and social needs.
Urgent healthcare issue
Baroness Finlay told the Sunday Express: "This is an urgent healthcare issue, with recent projections showing that palliative care needs will rise by 42% in the next 25 years".
According to Baroness Finlay, there are 118,000 people in England who would benefit from palliative care but are not receiving it. She said: "people are dying with complex needs, with no specialist service available to help in their area".
Age UK, the largest charity in the UK working with older people, claim that although the 65+ population accounts for 85% of all deaths, older people are "often least likely to have access to specialist palliative care."
CARE's response
It's so important that we ensure patients have access to palliative care at the end of life. There are significant variations in the quality of care currently experienced by patients, dependent on location, type of illness, age and other factors. We wholeheartedly support Baroness Finlay's Bill which would improve access to palliative care services across England by removing barriers to accessing high quality palliative care for individuals approaching the end of their lives.